Thanksgiving is almost here. You know what that means: Lots of turkey and lots of traffic. That's especially true in Los Angeles, where this year, like most years, the holiday congestion is reminiscent of another thing Americans should probably associate with Thanksgiving—clogged arteries.

For people in major cities like LA, just the thought of traveling to a relative's house can deter them from leaving the house at all. That's not enough to stop gridlock on major roadways, though, with AAA estimating that 50.9 million Americans will travel at least 50 miles this Thanksgiving. And gas prices are even higher this year than the last two (Ouch).
It's no secret that cars are a major source of air pollution. Transportation is responsible for more than 50 percent of the nation's total nitrogen oxides emissions, more than 30 percent of volatile organic compound emissions, and more than 20 percent of particulate matter emissions, according to the Environmental Protection Agency.
Then, there's, of course, carbon dioxide emissions: 27 percent of U.S. emissions stem from transportation. So vehicles like cars and trucks not only make us sick; they're also helping heat up the planet.
Imagine how much worse this all gets when traffic looks like this:
G/O Media may get a commission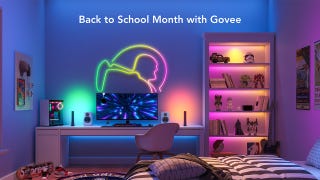 Back to School
Back to School Month with Govee Sale
This is Los Angeles Tuesday night as people attempt to make a head start for Thanksgiving travel. ABC News captured the sight with this video that now has more than 10 million views.
Independent environmental journalist Aura Bogado described the scene:
When traffic is congested, more premature deaths happen. This is true across the country, as the Harvard School of Public Health found in 2011. Scenarios—like this one in LA—led to more than 2,200 premature deaths a year across 83 of the United States' largest urban areas, per the study. This amounts to an $18 billion bill for the health system.
Nitrogen oxides and particulate matter are super dangerous for human health, and they're both responsible for the rise in mortalities. So is sulfur dioxide, according to the research. California has the highest number of deaths attributable to sulfur dioxide, which can irritate the lungs when inhaled and is especially risky for those with asthma.
Luckily for some, by Wednesday morning the traffic in LA appears to have eased up, at least for a moment.