Imagine that the universe is a grid of stars that wraps around to the other side of a rectangle, and you can create gravitational pull to shape it with your fingertips. That's Gravilux, in a nutshell. Despite its "out there," fictional-physics-driven concept, this concept was enough to make it one of the most popular early iOS apps in the iTunes store.
Having ported Gravilux to Android last month, creator Scott Snibbe (the app captain of Björk's Biophilia project) recently updated Gravilux with a host of new options for drawing with stars, just like the original, as well as the ability to manipulate user-entered words instead of a star grid, and (what concerns us here) a new music visualizer.
Gravilux 2.0 (available in separate versions for iPhone and iPad) costs $2, but its most interesting features - the ability to shape words instead of a grid and use the music visualizer - will run you another $2. So really, this app costs $4, which some might consider a lot to pay for the ability to paint with stars and visualize music playback.
G/O Media may get a commission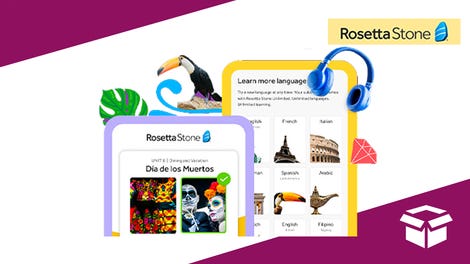 Extra 20% off
Rosetta Stone Lifetime Subscription - All Languages
However, others might consider it a bargain, especially if they plan on displaying their iPad prominently as music plays. Such is the way of music apps, where personal preference dictates things to a great degree.
Anyway, what is this thing really like? According to Snibbe, "the new music visualizer… creates gravitational music videos filled with color and stars based on any of the tracks in your music library… and a new animated typography module [allows] people to create words and phrases made of stars, and then warp them with gravity and antigravity, distorting, collapsing, and exploding apart."
That's a good description of what the app does. We found it pretty amusing, although for the time-strapped among us (present company included), the most attractive feature would probably be the music visualizer, which can make an iPad look pretty gorgeous as dots of any color swirl in time with the music.
That is why we have to fault Gravilux for not including AirPlay support (that we can find, anyway). With AirPlay, you'd be able to display this visualizer on a television set, which would be a pretty neat way to play music at home.
Without it, the app is better suited for solo listening. It's ideal user: a young person without a million things to do and places to be - ideally in an (ahem) "experimental" mindset.
Evolver.fm observes, tracks and analyzes the music apps scene, with the belief that it's crucial to how humans experience music, and how that experience is evolving.