E ink has been big lately. BMW's covered cars with it, and Lenovo's put it on laptop lids, so you can have a document pulled up even with your laptop closed. There have even been E Ink typewriters, which promise writers a comfortable and distraction-free writing experience by pairing a keyboard with an E Ink display. Perhaps encouraged by how trendy E Ink's been as of late, Lenovo's now expanding on its E Ink lid computer by taking a note from those typewriters, letting us use E Ink as our main laptop display in the new ThinkBook Plus Twist.
A 'twist' on the ThinkBook Plus Gen 1 and 2 design, the ThinkBook Plus Twist is, at first blush, your typical thin and light productivity laptop. It's got up to an Intel Core i7 CPU, up to 16GB LPDDR5X RAM, and an admittedly snazzy 2.8K OLED panel with touch and pen support and 400 nits of brightness.

But look at the back of the laptop and you'll see a 12-inch, front-lit color E Ink touch display. Aside from the addition of color and a bump up to a 12 Hz refresh rate, that's not too different from what you might have seen on the ThinkBook Plus Gen 1 and 2. Until you notice the swivel at the bottom of the screen.

Rotate the screen to the right, and you'll notice that the E Ink display will move to the front of the device, while the OLED display will suddenly become the lid. That's right—you can now use Windows on a laptop with an E Ink screen as its primary display.
It's a bizarre, understandably sluggish experience, given the 12 Hz refresh rate. Doubly so since the production model I was working with at CES was lagging a bit in a way that Lenovo assured me wouldn't happen on retail models. But given that devices like the Freewrite Traveler, which sells itself on having an E Paper display, go for $500, there's certainly a market for Lenovo to find here. Remote work has definitely left me tired of staring at my bright LED laptop screen all the time.
That said, you won't lose functionality over prior ThinkBook Plus models. The OLED screen can quickly come back to the front of the device, and any apps you have open on your main display will transition to the same spot on the other display when you swivel it around to swap it in. There's even a full-fledged tablet mode that automatically activates if you close the lid, letting you use the rear display with just your finger, in either a horizontal or vertical position.

You will notice what looks like a webcam on either side of the display, although the E Ink side's "webcam" is actually a light sensor for adjusting brightness and color temperature.
G/O Media may get a commission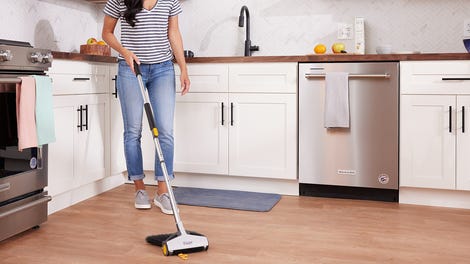 BOGO 50% Off
Flippr - BOGO 50% Off
The ThinkBook Plus Twist will start at $1,649 and will be available starting in June.
Forget notches, just use this magnetic webcam attachment
Speaking of webcams, Lenovo's also announcing another new ThinkBook, this time with a unique accessory system. Mirroring the ThinkBook Plus Twist, the ThinkBook 16p Gen 4 seems like a fairly standard high-power productivity laptop at first. It's got Intel H-Series processors and discrete Nvidia graphics options, plus up to 32GB of DDR5 RAM and a 16-inch IPS screen with multiple resolutions and even frame rate options (3.2K @ 60 Hz or 2.5K @ 120 Hz). But it's the top of that display that helps it stand out.
When Apple's M2 MacBook Air came out last year, finally showing us that Apple has resorted to putting a notch on its laptops, I questioned why not just put a magnet for a removable webcam on the back of the laptop. That's exactly what Lenovo's done here.

The ThinkBook 16p Gen 4 is the first laptop to introduce Lenovo's Magic Bay accessory system. On the top of the device's lid is a magnetic Pogo pin connector, allowing you to attach one of three accessories to the device.
The first is a light bar, for use with the laptop's integrated 1080p webcam. The second is a 4G LTE module, which you can also connect via USB-C. The third is my favorite—it's a full 4K webcam that can swivel 180 degrees to the back of the laptop.

This means you can get higher-quality webcam footage on your laptop without sacrificing screen real estate, and I hope to see similar features find their legs with other brands in the future.

For now, it's an experiment. The ThinkBook 16p Gen 4 is the only Lenovo system that's currently set to support Magic Bay, and the only way to get Magic Bay modules is to order them with your laptop when configuring it.

That's a bit unfortunate since we currently only have pricing for the laptop itself. The ThinkBook 16p Gen 4 will launch in May for a starting price of $1,349.