Our occasionally culinary cousins over at Lifehacker may have jumped the gun on Gastronomodo Taste Test by a few weeks, but I'll let this one slide, because it's helpful: Here are five good ways to manage your recipes.
Lifehacker's got all the details, but here's the gist:
• Allrecipes.com stores and organizes your recipes IN THE CLOUD, to put it sensationally, or on their servers, to put it reasonably. It's an informational site first and foremost, but it seems to handle recipe management pretty well too. It's free, or $17.50 for a full membership.
G/O Media may get a commission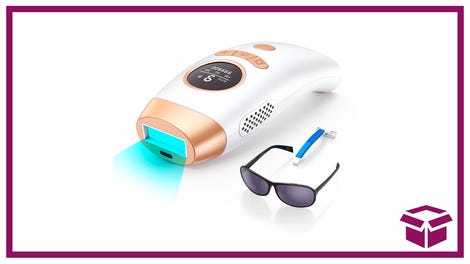 58% Off + Coupon
IPL Hair Removal Device
• SousChef is a bit like Allrecipes, except it's got a fancy-pants Mac app, and a cool enlarged-interface option so you can read recipes from afar, keeping your laptop out of harm's way. It'll set you back $30.
• Evernote is a amazing all-purpose notetaking/organizational system that just happens to be pretty great at dealing with The Victuals. Basic version is free and sufficiently food-capable, while the full license is $45 a year, with apps for Mac, Windows and iPhone.
• Big Oven looks a lot like SousChef, except it works on Windows, has a highly functional website, not to mention an iPhone companion app. It's $30.
• And, if course, paper! It's great if you're worried about ruining your laptop with an errant sauce splatter, or if you need to round out a blog listicle with something cute. Lifehacker's sentimental readers overwhelmingly favor this one, and to be fair, it's probably the most practical. But, you know, technology!
Taste Test is our weeklong tribute to the leaps that occur when technology meets cuisine, spanning everything from the historic breakthroughs that made food tastier and safer to the Earl-Grey-friendly replicators we impatiently await in the future.