Greg Leyh spends his time proving lightning can indeed strike in the same place twice. Now, Leyh is planning to tackle the Zeusian task of creating a facility that can create lighting strikes on command - and serve cocktails.
Less than an hour outside the glittering cesspool of Las Vegas, sits the future site of the Nevada Lightning Laboratory. The 80-acres are barren, but the plans for the land are impressive. The NLL project plans to erect a set of twin 12-story tall Tesla coils, capable of creating an arc over 300 feet long. The twin coils will be used to test aircraft vulnerability to electrical storms, as well as provide some pretty dazzling entertainment to the public. Elevators will take on-lookers to the tops of the towers where there will be viewing platforms, safely encased in the Faraday cages atop the Twins. There will even be a bar and lounge area. From your plush seat, dry martini in hand, you will be able to watch a simulated lightning storm with the same specs as the real thing.

In addition to tickling aircraft with bolts of light, the research facility will provide a space for scientists interested in, among other things:
* Re-creating relativistic breakdown avalanches and other large-scale anomalous events
* Pulsed calibrations of the ionosphere, allowing accurate global weather data measurement
* Research and development towards developing advanced lightning control techniques
G/O Media may get a commission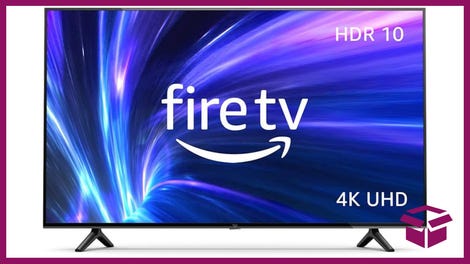 42% Off
Amazon Fire TV 50" 4K Smart TV
Viewers of a less scientific bent won't be disappointed, either. Aside from a well-mixed drink on the viewing deck, the NLL hopes to provide a experience worthy of, well, Vegas. These cirque du circuitry shows may include:
* Flying a helicopter through the live electrical discharges
* Full-scale lightning strikes on vehicles, buildings, trees
* Throwing lightning arcs hundreds of feet, with a human hand
* A full scale re-enactment of Benjamin Franklin's kite experiment
While the NLL site is still empty, the team of mad scientists behind the project have been hard at working making this coil dream a reality. To do simulations, they've built 1:12 scale twin coils, to demo what sort of sizzling spectacle will eventually take place just ten miles from the electrical powerhouse of the Hoover Dam. The NLL crew have given demonstrations for the past several years at Maker Faire, Dorkbot SF, and the Northern California Teslathon. For crowds, they sometimes fly remote helicopters into The Twin's arc, to give a small taste of what is eventually to come. Recently, one of Leyh's prototype Tesla coils came out to play in June at Dorkbot:
DorkbotSF at the Nevada Lightning Lab from Mike Estee on Vimeo.


The Twins:


Greg Leyh and the NLL crew are no strangers to the magic of Nikola Tesla. Leyh, an odd amalgam of Tesla and Benjamin Franklin, lives for lightning. He founded Lightning On Demand, a group of engineers and artists dedicated to creating and studying electrical phenomena. For example, at this year's Maker Faire, a go-cart carrying a human rider was powered, entirely through the air, by the 1:12-scale twin coils in a demonstration of Tesla's century-old patent on remote power, one of the largest such demonstrations ever successfully implemented. Most prominent among their existing projects, however, is perhaps the giant Electrum, a nearly 40-foot wand sculpture that houses the largest Tesla coil of its kind ever built, capable of discharging 130,000 watts. The Electrum is a collaborative project between Leyh and artist Eric Orr, and is part of an installation in Auckland, New Zealand.