Just finished a 20-minute tour of iWeb with a friendly Apple demo dude. Impressive product.
First, the basics. iWeb is a website creation program. It's much easier to use than FrontPage or Homesite, and its pages are much prettier and more sophisticated than the freebie website programs you get from web hosting company. And it blows away blogging software like ecto and MarsEdit.
iWeb [Official product page]
iWeb is part of the new version of iLife ($79) — Apple's collection of multimedia programs that includes iPhoto, iDVD, iMovie, and Garageband. iWeb works closely with the other programs to make it easy for folks to whip together decent-looking websites with photos, music, video and RSS options.
It's easy to get started with iWeb. It comes with Apple-designed templates that have all the staple personal website pages: blog templates, "about me", photo albums and so on. It dispenses with HTML — you make your pages much like a word processor by dragging and dropping page elements. (We didn't get a chance to look at the resulting HTML code, but it's a safe bet it's too gnarly for purists.) And you're not stuck with the Apple templates — you can heavily customize everything.
The most impressive part of iWeb is its iLife Media Browser. It's a palette window through which you can access the media you've stored in iPhoto, iTunes and iDVD. Just drag and drop an album from iPhoto and you got your online slideshow — no need to monkey with JavaScript. Same with songs and videos. And if you add new media — say, a few more snapshots of Junior — iWeb can quickly update everything, including navigation.
G/O Media may get a commission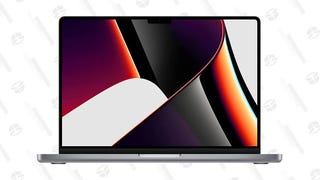 Save $300
2021 14" 1TB MacBook Pro
iWeb is tightly integrated with .Mac, Apple's web hosting service. If you're a subscriber, you can include things like RSS and photocasting support to your iWeb-created pages. iWeb also takes care of all site navigation links and menus — a nightmare for hand-coded sites. The downside of .Mac integration is, your site will have be on the Mac.com domain. But iWeb also works if you have your own domain. You can save your entire website, save it in a folder, create an index page and upload it all to your web server. We didn't get to test this, but very likely, the result wouldn't be as dynamic and clean as publishing on .Mac.
Of course, if we had more time to kick the tires, we would be able to give you a list of shortcomings and warts. But at first glance, iWeb seems to be another top-of-its-class multimedia app from Apple.