In 1987, five year old Saroo Brierley and his brother boarded a train that was supposed to take them home after a long day of begging on the streets of India. But the boys fell asleep, the train rolled on, and hours later they were deposited clear across the country.
Twenty-five years later, Brierley has finally found his way home. And he did it with Google Earth.
The details of what happened after Brierley and his brother got off of that train are sparse, but the few glimpses we get aren't happy ones. Over about a month of searching, he almost drowned in the Ganges river, and was nearly abducted and sold into slavery. At some unspecified point, his brother passed away.
Eventually, Brierley was found and declared a "lost child." He was adopted by an Australian couple, who reared him an ocean away from his homeland. He studied at University of Canberra, and now owns a shop in Tasmania. But he never stopped looking for his family.
About 10 years ago, Brierley began using the Internet to find his original home, with little to go on but vivid memories from his childhood. Recently, he turned to Google Earth to try to find a match for his mind's eye. Last month, he finally found one.
G/O Media may get a commission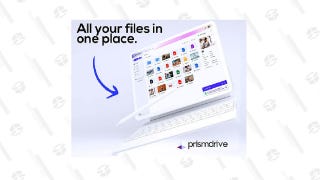 Save 97%
Prism Drive Secure Cloud Storage: Lifetime Subscription
Google Earth led him to his hometown, Ganesh Talai, and from there he tracked down a group dedicated to the town on Facebook. He emailed several members, and was eventually piece enough together that he got on a plane and literally searched through the streets until he found his family.
The reunion with his parents heartfelt, but after so much time, there was a bit of a language and culture barrier. He told the Indian Express, "There is some Hindi in my head but I have to observe their facial expressions and hand movements to make complete sense of what they say."
Brierley's planning on making a movie about his life—and wouldn't you?—but his story is a good reminder that the internet isn't all leaked cell phone pic and cat memes. [Indian Express, The Mercury via Ycombinator, Google Earth Blog]