 By Brendan I. Koerner
Given the frighteningly low pay in my chosen line of work, I often fantasize about dropping writing in favor of something far, far more lucrative. Alas, I lack the hops necessary to make it in the world of professional basketball (even on the Minot Skyrockets), and my brain's too feeble to handle the likes of arbitrage, bond trading, or high-stakes pai gow. The one thing I might be cut out for? Importing low-end Chinese electronics.
Sounds difficult, I realize, especially since my Cantonese is little better than my Xhosa. But in the era of quick-and-easy sales leads via Tootoo and Alibaba, as well as Guangdong factories that really, really want to be your friend, low-end moguldom is hardly the impossible dream.
Case in point: the man behind Sundial, which sells MP4 players like the Nanoish knock-off pictured at right. After the jump—and in partial honor of the impending Year of the Pig—an anatomy of how a gadget gets from Southern China to Norfolk, Virginia. PLUS: Commodore in Argentina!
Our story starts in one of Shenzhen's myriad industrial parks, located in the factory-clogged Bao'an District. This is the headquarters for MJN Technologies, an erstwhile hi-fi manufacturer that now focuses on making portable audio/video players "built with latest controllers from Actions, Samsung, and Sigmatel." MJN also wants you to know that 30 percent of their labor is done with human hands, making this precisely the sort of company that Edward Burtynsky would certainly love to document.
Among MJN's hottest products (at least according to them) is the FY-910. The aesthetics are obviously cribbed from the Nano, but it's a different beast—it'll play MP4 files and has a built-in FM receiver, but the memory tops out at a gig.
Obviously, this isn't the sort of thing that's gonna end up at Best Buy. MJN instead hooked up with Jhansene Lopez, a college student in Norfolk, Virginia who's also the chief executive of Sundial. And what's Sundial? As far as I can tell, it's a one-man electronics importers with a kiosk in Norfolk's Military Circle Mall. It also has a thriving eBay store that, strangely, goes under the name Garment Liquidator. (The eBay prices are actually better than the kiosk's, it seems, with one-gig MP4 players going for c. $36.)
Sundial seems to have solicited its MJN connection through both Alibaba and this site. What's amazing about connecting with factories in this manner is how little you're required to order nowadays; shipping costs have come down to the point that you can get steep price breaks on buying a few hundred units, as opposed to a few thousand. Heck, one MP4 manufacturer I came across would do wholesale deals on as few as 25 players.
You can quibble with the quality of MJN's merchandise, but I gotta say, much respect to Lopez for bringing low-end Guangdong gadgets to the American mall. I'm blessed in that, as a New Yorker, I'm within a quick subway ride of not one, but three fabulous Chinatowns where such electronics are easy to find. Not everyone's so lucky, but they may be if Sundial makes good on its stated intention to franchise its kiosks.
So should I gather some start-up cash, purchase a bunch of MP4 players via Tootoo, and become a low-end tycoon? Or is this business a lot less lucrative than I'm imagining it to be? One potential stumbling block I foresee is direct sales from factories. Take this Nano knockoff, which lists at a ridiculously low $29.99—where they get you is on the $25 shipping cost, which is a pretty sure tipoff that they're boxing the player up in China and sending it right to your doorstep.
If the shipping rates come down appreciably—which may largely be a matter of cutting red tape on the Chinese side—the likes of MJN may no longer need the likes of Sundial. But for the moment, my low-end hat off to Lopez and his efforts to bring off-brand electronics to the masses. Perhaps I'll join you in that line of work soon.
Or maybe not. On second thought, wiring money to some dude in Shenzhen I've never met sounds a bit risky, and cheapskates like myself don't like taking such risks. In my quest for a better payday, perhaps I'll stick with something safer.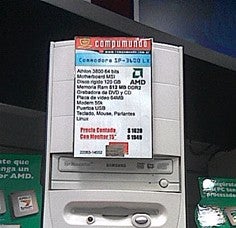 COMMODORE LIVES!: I'm pretty sure that a good three-quarters of this column's readers owned a Commodore at some point in their geeked-out lives. I certainly remember unwrapping a VIC-20 one glorious Christmas, and spending the next six months coding a ski-racing game onto a frickin' cassette. (Yes, I'm old.)
Y'all will be glad to learn, then, that Commodore's comeback effort seems to be working...in Argentina. An Argentinean reader snapped the cellphone pic at the right while computer shopping. The hard-to-read prices for the Commodore SP-3600 LX are 1620 pesos (c. $523) for the CPUbox alone, and 1949 pesos (c. $629) complete with a 15-inch monitor. The specs? Straining my eyes, it looks like an Athlon 64 3800 processor, 512 MB of RAM, a 120-gig hard drive, and a Linux OS.
Oh, and a Samsung DVD combo drive. Though I'm sure you can figure out how to attach a cassette drive if you really, really want to. (Thanks, Jose Luis!)
Brendan I. Koerner is a contributing editor at Wired and a columnist for both The New York Times and Slate. His Low End Theory column appears every Thursday on Gizmodo.