Today we learn who Mark Ruffalo's Hulk is really based on, Samuel L. Jackson makes us laugh and Stretch Armstrong gets gritty. Sansa Stark talks about her first day on set and Vampire Diaries new tagline raises questions.
Spoilers beyond this point!
Top image from The Dark Knight Rises.
Avengers
The Avengers' publicity juggernaut won't quit until it succeeds in blowing up the entire internet. But before we get into important topics like why hire Joss Whedon or the characters' development, let's spend some time with Samuel L. Jackson as he discusses iridescent Hulk weed. Go ahead, watch it, we'll wait:
While Disney may not be thrilled Jackson is recommending that the audience toke up before their summer tent-pole flick, it may be advice worth keeping in mind. [Multipleverses]
But back to the serious business of making a comic book movie. Producer Kevin Feige told reporters why hiring Joss Whedon was so important, and it wasn't because he wanted to know what happened in the second season of Firefly. (That's the reason I would have hired him.)
Feige said:
My big fear was that the whole thing would collapse under its own weight, that we'd spend so much time on costume[s] and super powers and special effects that these characters and these actors wouldn't get the chance. My biggest interest in the Avengers is the interaction between the people. Looking at Joss' body of work — his characters never, ever get lost; those are the moments that shine. That was to me why he was by far the best choice.
G/O Media may get a commission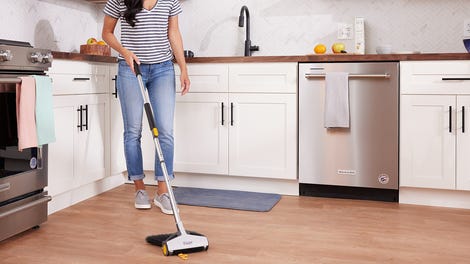 BOGO 50% Off
Flippr - BOGO 50% Off
In the same press conference, Mark Ruffalo explained how he found the super adorable inspiration for his role after renting Bill Bixby's The Incredible Hulk series:
"I rented those with my ten-year-old son, and after the third episode he turned to me and said, 'Papa, he's so misunderstood!' I basically based my character entirely on my ten-year-old boy, who has all the force of nature screaming out of his body while at the same time having everyone around him telling him to fucking control himself!"
There are also a ton of new cast interviews. First up is Mark Ruffalo and Scarlet Johansson:

Then Jeremy Renner:
Finally, Clark Gregg was interviewed on the Tavis Smiley show. You can listen to it here: [Coming Soon]
And here's the new clip, featuring Captain America and Agent Coulson, which Gregg shared during the interview:

Here's a new extended TV spot featuring Iron Man. [Coming Soon]

---
Catching Fire
Lionsgate has made it official. Francis Lawrence will be taking on the impossibly short pre-production time for the sequel to the beloved and monetarily successful Hunger Games. May the odds be ever in his favor. [MTV]
---
Snow White and the Huntsman
Reimagining the famous talking mirror from Snow White seems to be as much of a draw to filmmakers as reimagining the fair one herself. You can check out a featurette about Rupert Sanders' version at the link. [Celebuzz]
---
The Amazing Spider-Man
In case you were worried that The Amazing Spider-Man would fail to capture the angst and awkwardness of tortured teen relationships, have we got news for you! Paul Feig, the creator of Freaks and Geeks and director of Bridesmaids stepped in to fill just that void in the script, by writing a bit. He revealed to Vulture that Amazing Spider-Man director Marc Webb
" invited me on set, and I did a little bit of writing for that movie, for one of the high school scenes."
[Vulture]
---
The Amazing Spider-Man 2
Apparently, it's never too soon for spoilers, even when those in question are for the sequel to a reboot that hasn't even hit theaters yet. Alex Kurtzman and Roberto Orci (co-writers on Star Trek 2 and co-creators of Fringe) were hired by Sony to rewrite James Vanderbilt's first draft. In a statement the two wrote:
We grew up as huge Spider-Man fans so, to us, the opportunity to work on this film is akin to being handed the Holy Grail.
Production on The Amazing Spider-Man 2 is set to begin during early 2013, with a release date of May 2, 2014.[MTV]
---
Iron Man 3
Andy Lau, Cantonese pop singer and eponymous star of Detective Dee and the Mystery of the Phantom Flame is reportedly in talks to play "an old friend of Tony Stark's that represents China's technology sector — and will use China's armored heroes to HELP Iron Man defeat "The Mandarin," who is seen as a terrorist against both the US and China." [Neon Punch]
---
Ender's Game
Ender's Game picked up a bit more nerd cred when it got its new sets — on a soundstage that used to belong to NASA. Bobby Cohen, who works with producers Alex Kurtzman and Roberto Orci told MTV that
"There is a NASA stage where they literally used to build the rockets for the space shuttle that is now actually a sound stage."
[MTV]
---
The World's End
We have photographic evidence that Simon Pegg and Edgar Wright have completed the second draft of their new film.

Following the European conventions of dating, this was completed on February 5, 2012 and not from the future date of May 2nd. This film would be the third in a loose trilogy that includes Shaun of the Dead and Hot Fuzz. [Slash Film]
---
Stretch Armstrong
Relativity Media is still chugging along with this property. They just hired a new screenwriter (has anyone been keeping count of how many this has been?) Writer Dean Georgaris (The Manchurian Candidate, Lara Croft Tomb Raider: The Cradle of Life) will aim for a slightly more serious angle for the character. Which is apparently what you say when you can't say "gritty" with a straight face. [Coming Soon]
---
The Eyes of the Dragon
It looks like Stephen King's 1987 fantasy novel is getting a film adaptation from SyFy, with Michael Taylor and Jeff Vintar set to write and produce, respectively. Here's the plot summary:
"Once upon a time, in the Kingdom of Delain, King Roland is murdered and his son and heir, Peter, is framed for the crime. Peter and his loyal friends must battle an evil wizard and Peter's usurper brother, Thomas, for the throne. Imprisoned in a tower, Peter conceives an escape plan that will take him years to execute before taking on Flagg, the powerful sorcerer who has masterminded this coup."
---
Game of Thrones
Watch Sophie Turner's recent interview with Sky Atlantic about her character Sansa Stark. She talks about how her audition for the role, her first day on set, etc. She also describes working with several other actors and discusses her character's development. [Spoiler TV]
---
Fringe
Joshua Jackson says "someone huge" is coming back to the show for the finale on May 11. Could Nimoy be back in the flesh? [E!]
---
Vampire Diaries
Here's a new poster promoting the May finale. There's some speculation as to the meaning of the words "A Future Blooms" at the link — could Elena be choosing a Salvatore brother for good, or becoming a vampire? Or something else? [E!]
And a sneak peek for tomorrow night's episode, "Do Not Go Gentle. [Multipleverses]
---
Once Upon A Time
In an upcoming episode, Emma might be leaving Storybrooke and Henry behind. Consulting producer Jane Espenson says,
"It would take a lot to make her do that. The important thing to her in this town is Henry. If Emma decided to do anything drastic, then it would be because she felt it was in Henry's best interests."
[E!]
---
Grimm
We've got more images from this Friday's episode, "Leave it to Beavers." [Spoiler TV]
And a short synopsis for the season finale, "The Woman in Black":
A trail of murders reignites Nick's search for the gold coins; a mysterious woman in black starts to interfere with Nick and Hank's investigation; Nick's relationship with Juliette reaches a crossroads.
---
Additional reporting by Jennifer Griffith-Delgado and Charlie Jane Anders.