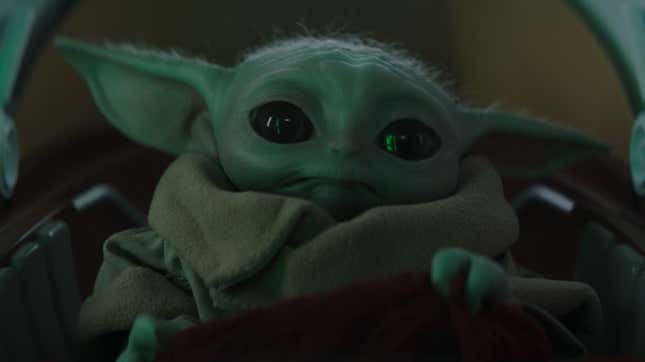 At this point it is impossible to separate the story of Din Djarin and Grogu from the wider universe of Star Wars' galaxy far, far away. In a similar manner to how the unlikely duo met, The Mandalorian has picked up iconic characters from across Star Wars film and TV to become part of its story. But for once, its latest surprise was less about pointing at the familiar, and doing right by someone Star Wars has rarely done justice with.

The Rings of Power | First Fandoms

"The Foundling," the fourth episode of The Mandalorian's third season, largely focuses its middle half on a flashback recollection of Grogu's time at the Jedi Temple on Coruscant, and more specifically his flight from it during the devastation of Order 66. As Clones swarm hallways and Jedi after Jedi falls to protect the child, Grogu is ushered into a hallway and a waiting landing bay, where he is picked up by a surprising face: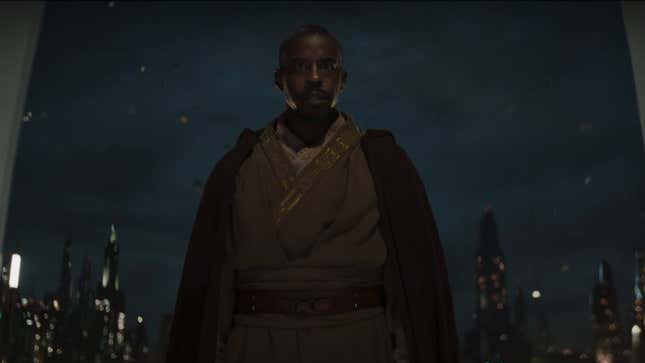 It might take a second glance, if you're not entirely familiar with who this is in Star Wars' story without the layers of recognizable makeup and CG effects, but the Jedi that saves Grogu's life, Kelleren Beq, is played by none other than Ahmed Best, known to Star Wars fandom as the man behind Jar Jar Binks. Beq is not an entirely new character—he was created for Jedi Temple Challenge, a short-run children's game show hosted by Best in-character as Beq, training younglings in the Jedi ways. Beq's also not the first time Best has appeared in Star Wars outside of Gungan costume, either—he appeared alongside Anthony Daniels in the background of the nightclub scenes in Attack of the Clones as a character named Achk Med-Beq—but Best's Star Wars legacy will always be tied to Jar Jar Binks.

Which has also meant it's been tied to a long legacy of harassment and insults along the way. After Jar Jar coalesced as a symbol to hold up the prequel trilogy as some perceived sin to a certain generation of Star Wars fans—separate from valid critiques of Jar Jar's association with racial stereotyping and Best's place as one of the few rare prominent black actors in the franchise at the time, under his mocap setup for the character—Best in turn faced years of being mocked for his part in one of the biggest franchises on the planet. It's only been in recent years that the actor has slowly come to re-embrace Star Wars, honestly and openly acknowledging the depression and suicidal thoughts he'd struggled with from years of harassment. He finally healed to a point where he could once again engage with a fandom that, in at least in some ways, has matured in the decades since the prequels' conclusion; the generation that grew up with those movies has also aged enough to return nostalgia for the prequels to a more mainstream fandom topic.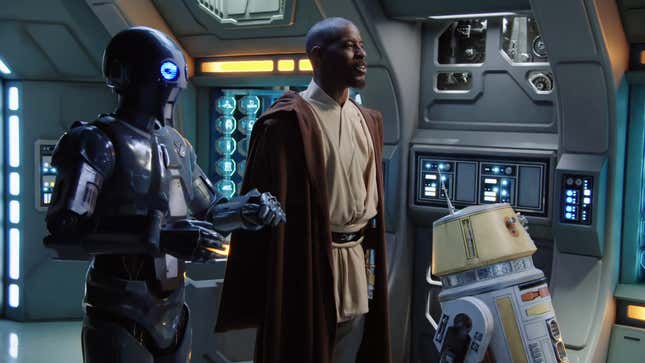 Bringing him in as Beq for Jedi Temple Challenge was a quiet but welcome acknowledgement from Lucasfilm and Star Wars in general—even if it was not a gesture that would be seen by a lot of Star Wars fandom, given the reach of a YouTube children's show. The step forward "The Foundling" took beyond that acknowledgement truly gives Best a moment to shine, dual-wielding lightsabers as he handily dispatches wave after wave of Clone Troopers. But by making his character, a character with his own face, a vital part of the story of Grogu—a breakout sensation in a breakout series, that, for better or worse, has re-catapulted Star Wars into a mainstream appeal it has lacked since the release of The Force Awakens—the series also finally grappled with its fondness for Star Wars' past in a way that felt restorative rather than necessarily indulgent. If you don't recognize Best here, it doesn't matter in the way the uncanny valley presence of a CG-enhanced young Mark Hamill dominates a scene. It's just a Jedi like any other. But if you do, it's only then the moment becomes truly special.

The Pandora's box of the show's second season—which brought Din and Grogu into the orbit of Clone Wars stalwarts Bo-Katan Kryze and Ahsoka Tano, and then movie legends Boba Fett and Luke Skywalker—has transformed The Mandalorian into a show that is eager to wrap itself into the story of the movies around it in ways big and small. That fascination with the big—that its heroes have gone from nobodies to rubbing shoulders with icons of the Star Wars saga—has increasingly felt like it's coming at the series' detriment, evolving it beyond the premise that drew people to The Mandalorian in the first place. And maybe "The Foundling" would've continued that feeling if the Jedi that had met Grogu at the top of that lift was someone we knew from the prequels or Clone Wars.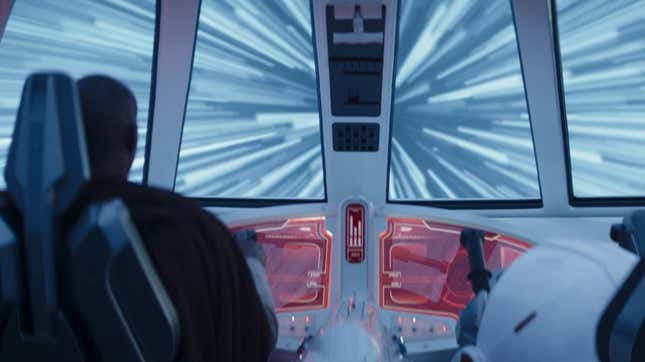 But thankfully it didn't, choosing to use this important part of its story to celebrate an actor the franchise rarely had the inclination to celebrate before—and in the process, created a moment of fanservice that felt much, much more significant that just simply being another glimpse of a familiar face.

---
Want more io9 news? Check out when to expect the latest Marvel, Star Wars, and Star Trek releases, what's next for the DC Universe on film and TV, and everything you need to know about the future of Doctor Who.