Earlier this week, we took a look at James Cameron's foreword to Masters of FX: Behind the Scenes with Geniuses of Visual and Special Effects, by Ian Failes. The entire book is an outstanding compendium of behind-the-scenes information about how all of your favorite films came together.
In this book, Failes brings together a really impressive group of special effects specialists: Dennis Muren, Bill Westenhofer, Joe Letteri, John Knoll, Phil Tippett, Douglas Trumbull, Rob Legato, Paul Franklin, Richard Edlund, Edson Williams, Karen Goulekas, Chris Corbould, Ian Hunter, John Rosengrant, Scott Farrar and John Bruno. Each gets their own section, and Failes profiles their careers, before launching into a handful of case studies, helpfully color-coded.
In each section, Failes picks a handful of films, looking specifically at a scene that they worked on, and with some interviews, outlines exactly how a shot or effect came together. Pick any major blockbuster, and you'll likely get several entries about it: The Dark Knight trilogy from Christopher Nolan gets a lot of attention, as does Star Wars, but there's entries on films such as Avatar, Ghostbusters, Godzilla, GoldenEye, The Golden Compass, Minority Report, Multiplicity, Pacific Rim, Pitch Black, World War Z, and a number of others. It's not all science fiction blockbusters, either: we get a good look at Apollo 13, The Aviator, Babe: Pig In The City, Titanic, The Social Network and a couple of others, which serves as a good reminder that special effects aren't only utilized in speculative fiction.
This is more than a book just about computer effects: this volume covers some of the practical work that's been done on films such as the rotating hallway in Inception or the digger and train scene Skyfall, to the model work done for films such as Star Wars.
G/O Media may get a commission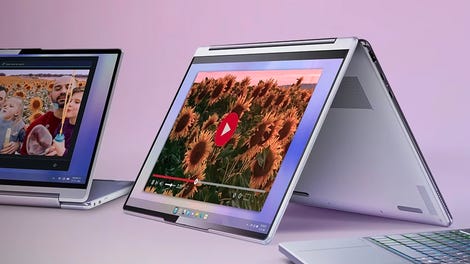 up to 70% off
Lenovo Spring Clearance
There's a neat bit of film history in here, and it's up-to-date enough that it includes such films as Interstellar and Rise of the Planet of the Apes. The end result is a good book for those who like looking a little more deeply into film, or who just like an added bit of film trivia to chat about with friends.