When I say "airport," what do you think of? Pat-downs, overpriced Coors Light, screaming kids, broken sanity? In the near future, however, you could start associating air travel with robots: Airport halls may soon be filled with scuttling, helpful machines that'll make flying less of a nightmare, and it's starting at a major airport near Tokyo.

Last week, Japan's ominously named robotics company Cyberdyne announced new technologies it'll start rolling out at Tokyo's Haneda Airport in September: Two robots, one exoskeleton. One robot shuttles unwieldy luggage, another cleans the facility, and the exo assists with heavy lifting.
The suitcase-schlepping robot looks like a cart, and carries objects up to almost 450 pounds—useful for any traveler, but especially for Japan's quickly aging citizens. It's also designed to help the loaders moving merchandise at airport stores.
The other robot, a sort of souped up Roomba, autonomously tidies the floor and returns to its home position automatically when done. Meanwhile, the noninvasive, waist-fitting exoskeleton has electrodes that detect the electrical signals muscles emit when a person moves, automatically assisting in limb motions, making things easier to lift. Certainly a useful item for an airport's staff, like baggage handlers.
G/O Media may get a commission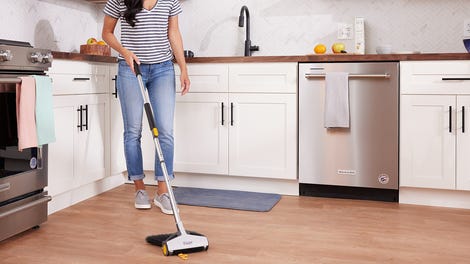 BOGO 50% Off
Flippr - BOGO 50% Off
This robot is your personal bag carrier, capable of ferrying over 400 pounds of goods.
Japan's government actively funds robotics R&D, with aims to triple the nation's robotics market to $22 billion in the next six years, and is keen on showing off some impressive technology at Tokyo's Summer Olympics in 2020. Meanwhile, more tourists are flocking to Japan now than at any point in the country's history. Haneda Airport wants to knock international visitors' socks off right out of the flight gate.

The Japan Times reported that Haneda's operator, Japan Airport Terminal Co., stated that Haneda's robotic trial runs aim to "communicate Japan's technology from Haneda airport, a doorstep of Japan" to the world. Cyberdyne CEO Yoshiyuki Sankai told the Times that an airport is a perfect place to try out emerging tech like robots, because "an airport is actually a huge place, like a small town, so to speak."
Cyberdyne and Haneda want to pioneer robot technology that's used in airports, based on these initial robots' performance. With any luck, I'll soon have a few 'bots to keep me company as I toss back $8 beer in between flight delays.
The exoskeleton and two robots, whose multiple units will staff Haneda Airport this year.
[Cyberdyne via The Japan Times]
---
Screenshots via YouTube/Reuters via Star Online