Beijing and Delhi are both planning major initiatives to kick cars off their streets, at least part of the time. Now even cities that aren't famous for their pollution are taking drastic measures to clean up their air. Today, Milan's streets are filled with bikes and pedestrians as part of three-day car ban.
Milan is blanketed in a thick smog that's created unhealthy air quality conditions for the past 31 days. This is due to excessively warm, dry weather that's persisted for several weeks—parts of Italy have not seen rain for almost two months. Many cities in China and India have been experimenting with limiting cars in their downtowns to curb dangerous levels of particulate matter in the atmosphere.
G/O Media may get a commission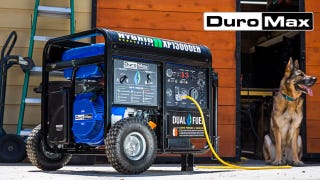 Black Friday Sale
DuroMax Generator Sale
Smog in Milan has been so bad that residents are posting photos with captions like "This is not Beijing" and rejoicing in the car-free streets today
The Italian city's "no-car" days are rather conservative, ordering only private vehicles off the streets for six hours a day. The 10:00 a.m. to 4:00 p.m. window doesn't interfere with major commute times and will only last three days, Monday through Wednesday, of this week. In addition, the city is offering a discount on public transit to encourage more people to ride the trains and buses instead of drive.
Surprisingly, a six-hour daily ban on vehicles is enough to make a difference. Studies by UCLA that tested pollution levels during CicLAvia, Los Angeles's regularly scheduled car-free festival days, showed dramatic drops in particulate matter. In fact, in the immediate neighborhoods where cars were banned, drops of the most dangerous particular matter, the kind measuring 2.5 micrometers or smaller, declined by a whopping 49 percent. But as soon as the cars come back, so does the pollution.
Europe has been dealing with some pretty nasty smog throughout 2015, with Paris experimenting with limiting cars during the week as well as adding some "fun" car-free days as well. Down south, Rome is restricting cars in its downtown to alternate day access using odd and even plate numbers until weather patterns change. Florence has limited cars in its city center through New Year's Eve. And in a move that may be more detrimental to the Italian way of life, Naples has banned wood-fired pizza ovens in the short term.
The only long-term solution, however, is to ban all cars from all big cities, immediately.
[AP]
Follow the author at @awalkerinLA
All images AP Photo/Antonio Calanni