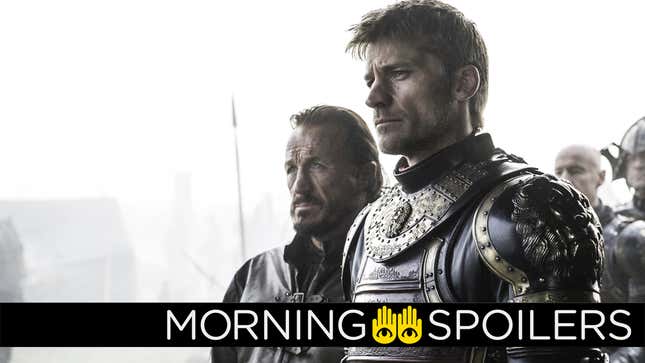 The next X-Men film may tackle a familiar comic book storyline. RYou'll have to wait a while for Marvel's Cloak and Dagger show. New Flash set pictures tease a troublesome encounter with the show's new big bad. Plus, a new clip from Moana, and teasers for Skull Island. Spoilers!

Twitter Is Shifting Right | Future Tech

Mission: Impossible 6
Avengers: Infinity War is top priority for Jeremy Renner, who may have to sit out the next M:I film due to scheduling:
I'm not sure what's happening. I know they [the Mission: Impossible 6 producers] really want to get it going and having spoken to Tom [Cruise] about where it's at I know there might be some conflict with schedules, I'm not sure what's going to happen. Avengers is going to eat up a lot of next year, I certainly hope it doesn't ultimately get in the way of Tom and I and the gang getting back together for that because I'd love to.
[Collider]
---
X-Men
LRM reports that the next film in the franchise—which may or may not be a retooling of the whole series, according to other reports—will focus on once again adapting the "Dark Phoenix" storyline with Sophie Turner's young Jean Grey.
---
Jurassic World 2
The film starts shooting in March, according to J.A. Bayona:
Every story is different and you need to find the depth of every story and try to express it on the screen. The Jurassic World sequel is a more collaborative filmmaker experience, not only with Colin Trevorrow, but also with Steven [Spielberg] and with Frank Marshall. It's their baby as much as it is mine. It's about sharing views and working together to bring the story to life. But, at the same time, the way I face telling a story is to find something very personal. I think there will be plenty of myself also in the film. We're working it already and shooting starts in March.
---
Fantastic Beasts 2-5
David Yates will continue as director not just for the sequel, but the entire Fantastic Beasts franchise. [THR]
---
Skull Island
Here's a new teaser for the film's next trailer, due to drop later this week.


---
Bright
Andrea Navedo has shared another behind-the-scenes clip from the Fantasy cop movie.
---
Resident Evil: The Final Chapter
Things look suitably biohazardous in the Japanese poster for the film.
---
Moana
A remarkably persistent ocean sets Moana and Maui on their quest in a new clip.
---
Game of Thrones
Watchers on the Wall has another report about filming for the recently revealed locations of Highgarden and Casterly Rock. Apparently the Almodóvar del Río Castle in Spain is filling in as both locations for filming, as pictures of both Tyrell and Lannister flags were spotted flying about the castle walls.
Scenes being filmed there apparently include a battle between Tyrell and Lannister forces within the walls of Highgarden (lending further credence that the set of the Tyrells will play backdrop to Daenerys' ambush, being billed as one of the next season's biggest new setpieces).
Intriguingly, the Casterly Rock portions of the shoot appear to be scenes of Grey Worm and his Unsullied assaulting the Lannister's ancestral home. Head to the link to see tons of photos from filming. [Watchers on the Wall]
---
Cloak & Dagger
The young adult Marvel series will not air until 2018, according to THR.
Other recent high-profile big swings haven't advanced as quickly as Ascheim and his team would have liked. Ascheim went straight-to-series in September 2015 on Nicki Minaj's semi-autobiographical comedy Nicki, which after shooting a pilot in January, is being redeveloped (and is no longer a series order). Then there's Marvel's Cloak and Dagger, ordered straight-to-series in April and now eyed for winter 2018 as showrunner Joe Pokaski (Underground) rewrites his initial script.
---


---
Supergirl
Executive Producer Andrew Kreisberg discusses the revelation about Lena's parentage:
You're supposed to be left wondering how involved Lena is. We've seen that Lillian Luthor is somebody not to be messed with. She clearly wields a great deal of power and scientific knowhow. What exactly is her relationship with her daughter, and exactly how much Lena is involved with Cadmus, makes up part of the excitement factor for these next few episodes.
[EW]
---
Supernatural
The team fight Lucifer—in disguise as a rock star, naturally—in "Rock Never Dies."
Lucifer (Rick Springfield) realizes that as rock star Vince Vincente, he can get his fans to do whatever he wants. Thrilled with this power, Lucifer arranges to play a secret VIP concert in order to kill all of them. Sam, Dean, and Castiel enter the underbelly of the music industry to try to stop him.
---
The Flash
Finally, new set pictures from filming what appears to be an encounter between Flash and new big villain Savitar seems to have a pretty dire fate for Iris West.
---
Additional reporting by Gordon Jackson. Banner art by Jim Cooke.