Sprint's got a new jewel in their helm, and they've got decent reasons to buff it: the Photon is what Android users seem to crave these days. It's large, powerful, and, unlike its cousins, will work (securely) around the world.
The Photon's an Android with muscle (Tegra 2 guts, 4G connectivity, and gig of RAM), all complimenting a sharp, 960×540 4.3-inch screen. Whether it's the internal power or the general lack of bloat, the Photon slides through content pretty gracefully, and the screen is nicely responsive to your various pinches, taps, and flicks. The 8 MP back and VGA front cameras were nothing remarkable. It isn't a Google-virginal Gingerbread setup, but it's clean, and runs well overall.
But the Photon's not just about its biceps—it's a powerful phone for a crowd beyond those that just want a lot of juice. It'll run well, and it runs well in lots of places, with international support for both CDMA and GSM bands. This, along with beefed up enterprise support for messaging and security protocols, will make it attractive to the jet set that doesn't want a stale business phone.
Build-wise, the Photon's a nice divergence from the typically flimsy, plasticky rectangles we're so used to with the generic Android set. The rubberized back felt good in my mitt, buttons were nicely clicky, and the thing didn't feel like it came out of a gum ball machine, which, sadly, is an achievement these days. Despite its bulk (and it is on the bulky side—2.6-inches x 5-inches x 0.5-inches), it didn't feel much weightier than my iPhone.
G/O Media may get a commission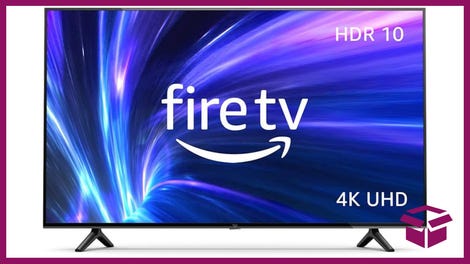 42% Off
Amazon Fire TV 50" 4K Smart TV
Essentially, the Photon's a solid Android device in both senses. It's powerful, decently-built, and travel-friendly. Sprint's mum on pricing and vague on release ("Summer"), but expect to see an dock, keyboard, and other Atrix-style (!) accessories surround it when the time comes.