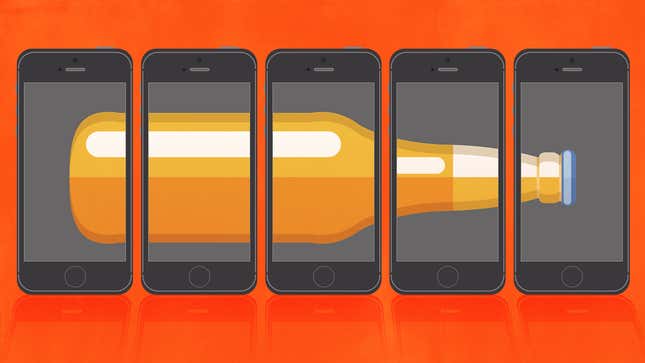 I like to drink. In fact, I like to drink more than I like to move. As in, move my body. I used those exact words when canceling a gym membership once. They wouldn't let me cancel over the phone, so when I finally went to the gym and was asked why I wanted to quit I simply said that I liked drinking more than I liked moving. The sales guy wasn't sure how to respond.
Twitter Is Shifting Right | Future Tech
The second decade of the 21st century has seen great inventions for people who like drinking but aren't big fans of exerting any effort to move. The very best one, hands down, is the alcohol delivery app.
Welcome to Gizmodo's Happy Hour. Substance abuse for nerds.
Alcohol apps are a fairly new phenomenon in our button-pushing economy. The companies behind these apps usually don't have warehouses or their own drivers. Typically they have contracts with liquor stores in major cities and when someone makes an order, the company simply adds their fee. The liquor stores make the usual amount (plus a tip for the driver) and the company behind the app is essentially tacking on a convenience fee for making the buttons that allow you to have alcohol brought to your door.
But the alcohol delivery app is still a fairly crowded market. Apps are coming and going—consolidating and going out of business—left and right. When I tried to download an app called Sqyre, it wasn't working. I emailed their customer service and got a reply: "We are actually undergoing a merger right now so the app is temporarily down. We should be up and running once the merger is complete in a couple weeks."
Every company is scrambling to become "the Uber of alcohol" but there's still a ways to go. Below we have an overview of my many Los Angeles-based misadventures with alcohol apps. The highest score I gave was a B (to both Drizly and Saucey), but that's only because nobody has yet made an alcohol delivery app that truly disrupts™ the industry, offers pricing on par with stores, and includes free delivery. Obviously I'm not holding my breath on that one, but a drunkard can dream.
Since most of these apps are going through local liquor stores, your prices will obviously vary. But here's a cheapskate tip: Google "coupon" or "promo code" with the name of the app you want to try and you'll typically find discounts on your first order.

Grade: B
TLDR: The interface needs a little work but the prices are fair.
Drizly was the first app I tried. And as with any product, if you like the first brand you try there's a good chance you'll stick with what you know. I probably used Drizly half a dozen times before I set out to try other apps for this post.
The first time I tried Drizly it was like magic. I signed up and within 15 minutes of ordering I had someone ringing my doorbell with a bottle of Jameson. It was nuts. Sure, it was more expensive than hauling my ass to the liquor store like a functioning human adult. But it was the future. And to be frank, it wasn't that much more, with my Jameson setting me back $26—comparable to local stores.
My only complaint about Drizly is that you can't scroll through a given alcohol type and easily see prices. This makes comparison shopping harder, but once you've bought into their ecosystem, (as I obviously did on my first order), you become familiar with what things cost.
[Cities: Austin, Baltimore, Boston, Boulder, Chicago, Dallas, Denver, Edmonton, Indianapolis, Los Angeles, Minneapolis, New Jersey, New Orleans, New York City, Providence, Seattle, St. Louis, Tamps, Washington DC, Worcester]

Grade: C+
TLDR: Slightly more expensive and a bad user interface.
After downloading Minibar I thought I'd hit the jackpot. Bulleit Bourbon for $15.99? That's Costco-level pricing! (By the way, alcohol at Costco is criminally cheap, at least in California.)
I found myself disappointed. But it was my own damn fault. The bourbon I'd ordered was indeed $15.99. But it was a 375ml bottle.
The "regular" bottle of Bulleit is $30, which is normal, though significantly more expensive than the crazy deal at my local Trader Joe's. The Bread and Butter Chardonnay from Minibar was fairly priced at $14.99, if again a bit higher than average.
My biggest problem with Minibar wasn't my own idiocy in ordering the wrong bottle of bourbon, though I really have to own that one. My biggest issue was the user interface, which I found tremendously inconvenient. Once you do a search, there's no easy way to return to the home screen and scroll by category. It's a relatively minor UI flaw but an important one that they could probably fix with their next update. When I placed my first order I actually quit the app so that I could get back to the home page again.
[Cities: Austin, Brooklyn, Chicago, Dallas, Denver, The Hamptons, Hoboken, Houston, Jersey City, Los Angeles, Miami, Minneapolis, New York, Palm Beach, Phoenix, San Antonino, San Diego, San Francisco, Silicon Valley, and Washington DC]

Grade: F
TLDR: Flaming pile of garbage with a terrible UI and mislabeled prices.
Thirstie's user interface is a disaster. After finding an inexpensive bottle of scotch and adding it to my cart, I handed the phone to my wife. We both had trouble clicking the buttons, which apparently required a sewing needle to hit with precision.
The $17 bottle of scotch I ordered was indeed too good to be true. Twenty minutes after placing my order I got a call from a Thirstie rep who explained that the price was actually $50. I mentioned that technically it was probably the law that they sell me the liquor at listed price (note: I was right and that is the law in California). Thirstie suggested that I call the liquor store and talk about a substitution. I said that I'd rather not have to call the store, which was the entire reason I was using an app to order liquor. I asked them to cancel my entire order.
There were plenty of other inexpensive bottles of whiskey listed on the site, but it's probably safe to assume that those prices were too good to be true. In fact, I got a follow-up email from another Thirstie rep that night who apologized for the mix-up and blamed the incorrect listing on a "typo that has since been rectified."
So I opened the Thirstie app back up and scrolled through the whiskey section. A 750ml bottle of Larceny bourbon : $9.99 ($22.99 at BevMo). A 750 ml bottle of Ancient Age : $11.99 ($14.99 at Ace). A Thirstie spokesperson confirmed that those were also pricing errors. Needless to say, Thirstie doesn't have their shit together quite yet.
[Cities: Austin, Brooklyn, Chicago, Dallas, Davenport, Fort Collins, Hamptons, Hoboken, Houston, Jersey City, Los Angeles, Miami, Minneapolis, New Haven, New York, Norwalk, Orlando, Ottawa, Redondo Beach, San Diego, San Francisco, Toronto, Washington DC]

Grade: B-
TLDR: Good selection, average prices, and the best choice for the casual vaper. Note: This app should not be confused with the more popular clubbing app Tipsy.
After my misadventures with Thirstie, I decided I should order from Drizly and play it safe. But then I reminded myself that I had a duty to the readers of Gizmodo. I had to try another app. So I downloaded Tipsy.
They've got tobacco and Blu e-cigs, if that's your thing. But I just needed alcohol. So I ordered my poisons (a $40 bottle of cognac and a $19 bottle of wine) and waited for my delivery. I continued to get a strange series of one-ring phone calls from an 800 number that I could only assume was Thirstie, but even if I'd wanted to deal with their mess, I couldn't. The callers kept hanging up after one ring.
After about a half hour my doorbell rang and here's where things really got nuts. I opened the door to find a man holding two different bags — one was a black cloth tote with Tipsy branding. The other was a plain black plastic shopping bag.
I instantly knew what had happened. Both Tipsy and Thirstie were contracting through the same liquor store who had their own delivery person. I tried to explain that I had canceled the Thirstie order and the driver insisted that he call his boss. I appreciate that Thirstie was probably trying to make good and send me my liquor at the listed price, but I just wished that they'd canceled my order.
Overall, Tipsy was fine, with a decent user interface and a good selection. The prices were a bit high for my favorites ($35 for Bulleit rye) but comparing prices was certainly easier than with Drizly. Tipsy also offered mixers, but those were limited to a couple sodas, orange juice, and a Jose Cuervo Margarita Mixer.
[Cities: Los Angeles, Beverly Hills, Santa Monica, and basically nowhere outside of the LA metro area]

Grade: A for effort, D- for selection
TLDR: Thirstie didn't have mixers so I used Drizly again.
After my disaster with Thirstie I received apologetic emails from two different people and a promo code of $20 off my next order. So when a couple of friends were coming over I decided to fire up the app. Unfortunately, Thirstie didn't have what I needed: mixers.
Every gathering of more than one person drinking alone in a dark room needs mixers. Have you ever drank straight vodka? If you claim that you can taste the difference between a $10 bottle of vodka and a $50 bottle you're a goddamned liar. Vodka exists to add alcohol to flavors that humans might enjoy. Vodka martini? The great taste of olives and vermouth, now with stronger alcohol! Vodka and cranberry juice? Man, this cranberry juice is getting me hammered.
After failing to find mixers on Thirstie I went back to my old friend Drizly. They had the mixers I needed (including cranberry juice) and the order was at my apartment within an hour. And guess who rang the doorbell? That's right, the same guy who came toting two bags from Thirstie and Tipsy a few nights before. I'm also 70 percent sure he was wearing the same flannel shirt.

Grade: B
TLDR: One of the most expensive, but definitely the best user interface.
The Saucey user interface might be my favorite, but I found the selection much pricier than apps like Drizly. My bottle of Jameson was $33, compared to $26 through Drizly. (As I've mentioned, your prices will vary by location.)
Saucey offers traditional cigarettes and rolling papers, but no vape pens. And they had snacks, labeled as being "for your health," which included Cheetos, Doritos, Pringles, and even Ben and Jerry's ice cream.
The app also lets you buy ingredients for popular cocktails. Scroll down to "Cocktails" and click on something like "Classic Negroni." You get a bottle of Campari, a bottle of Bombay Sapphire gin, and Martini & Rossi vermouth. Unfortunately, it doesn't appear to come with a citrus shaving that looks like it was wrapped around a doweling rod made of endangered wood, as I hear is the fashion with the kids these days. The Classic Negroni package costs $68.75 and "makes 10" according to the app.
Saucey is the rich man's Drizly. If you don't mind spending a bit more than Drizly for a wide selection, one-touch cocktail purchases, and the best user interface, this is your app. Unfortunately for people outside of California and Chicago, you may not be able to order from Saucey yet.
[Cities: Chicago, Los Angeles, San Diego, San Francisco, and Dallas reportedly coming soon]

Grade: A for effort, C for execution
TLDR: They messed up again, but the liquor store was very nice about it.
Not wanting to turn down $20 in free booze, I gave Thirstie one last shot. I ordered a bottle of cognac for $27, which after tax ($2.43), tip ($2.00), delivery fee ($5.00), and my discount (-$20) came to $16.42.
I instantly received five identical emails confirming my order (no joke) and was hopeful that this time things would go smoothly. But 15 minutes later I got a phone call from a number I didn't recognize. It's the liquor store. They tell me that they didn't have the particular bottle of cognac I wanted. I didn't know whether to laugh or cry booze-filled tears. But the kind gentleman on the other end of the line said that he'd send over a nicer cognac at no extra charge.
I'm not sure if it was Thirstie or the liquor store that decided to give me the nicer bottle, but either way, it was nice. Thirstie still needs to work on their inventory. After all, that's the primary reason I'm using an app: To get what I want without having to talk with a human over the phone or drag my lazy ass down to the store.
About 10 minutes later the delivery man showed up with my cognac. I asked if I needed to sign something. "Nah, I've seen you before," he replied. Indeed he had. And indeed he will again. But not courtesy of Thirstie.
Illustration by Sam Woolley