Tarps can be lighter and even stronger than tents. But, they can also be a pain to setup, expose you to the cold, damp ground and don't protect you from bugs. With its new ultralight bicycle camping (or anything) series, Nemo has fixed all those problems. Here's how.

Apollo Shelter
Weighing just 1lbs, 5oz and providing enough space to sleep three people in comfort, you can understand the appeal of tarp shelters. They're also easy to adapt to any weather condition, buttoning down low and tight to the ground in high winds or high and airy on warm nights.

They're also versatile. The Apollo is lighter than a 1P tent, but if you're traveling or sleeping alone, it gives you room to bring your mountain bike or dog(s) inside with you. Along with your pack and other gear. And if that gear, bike or dog is wet and muddy, there's no floor for it to get dirty.

G/O Media may get a commission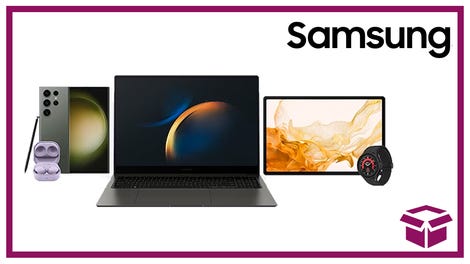 24 hour deals
Discover Samsung - Daily Deal
Moonwalk Sleeping Bag
To the best of my knowledge, this is the first sleeping bag with a waterproof bathtub floor built in. That means you can put it directly on wet, cold ground and nothing will absorb or soak up water while that floor also protects the sleeping pad from punctures.

You slide that pad into the integrated sleeve above that waterproof floor, keeping the pad dry too.

The rectangular shape facilitates extra comfort, while the hoodless design and 700-fill down and lack of under-body insulation (the pad handles that) keep weight down to a very reasonable 2lbs, 2oz; not bad considering that waterproof floor. Complementing its all-weather ability, it's filled with DownTek waterproof down. The same stuff we tested by jumping in a frozen lake. The bag is comfort rated to 30 degrees (F).
Tensor Sleeping Pad
Compared to our comparison test-winning Nemo Astro Lite, the firm's new Tensor range ditches the Primaloft insulation for lighter metalized film insulation. The lateral baffles also give way to a new quilted pattern, which Nemo says, "…create a more stable sleep surface, better for rolling side-to-side…"

The main benefit though is weight. The standard 72x20" Tensor 20R weighs just 350g; 190 grams lighter than the Astro Lite. It also packs down to a smaller 8x3" roll.
Escape Pod Bivy
At a ridiculously light 204 grams, the Escape Pod Bivy is designed to keep bugs off while you sleep. An "air rib" give the bug bivy structure, while packing smaller and more robustly than a pole. A big part of that weight saving is also due to the 2/3 length, which provided bug protection over your head, face and potentially exposed upper body as you stick it out of the bag on warm nights; a drawstring keeps mosquitos, gnats and similar from getting between your sleeping bag and the mesh.

All-together, this is a 4.6lbs package that packs both tiny and flexibly, allowing you to cram and stuff everything into the oddly shaped panniers of a bicycle or a very small backpack. It's not the lightest sleep system out there, but it gives you the ability to pick and choose different items as seasons and conditions change while also providing excellent weather protection. The tarp, pad and sleeping bag, for instance, would be great for a fall trip through the mountains, post-mosquito season. While just the bag, pad and bivy would be perfect for hot summer nights. Travel in a group, share the tarp and you'll save even more weight.

This obviously isn't the same, simple one-stop solution a tent is, but I think its modular (and available separately) ability to adapt to varying conditions is unrivaled.
All are part of Nemo's 2016 product range; price and availability will be announced later this year.
IndefinitelyWild is a new publication about adventure travel in the outdoors, the vehicles and gear that get us there and the people we meet along the way. Follow us on Facebook, Twitter, and Instagram.