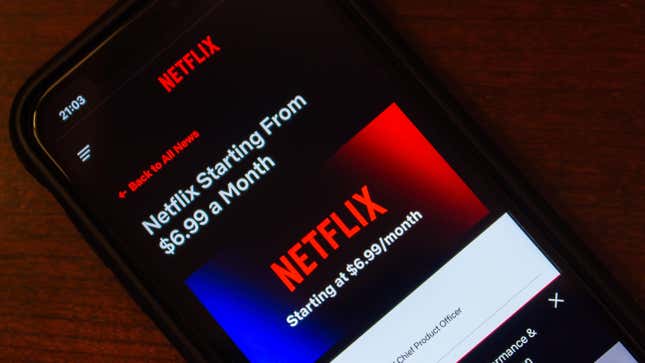 Netflix announced that Canadian users will no longer have access to its cheapest streaming subscription tier that doesn't include ads. Netflix's help page now notes Canadians looking to get Netflix or switch plans will no longer have access to the $9.99 Basic option. Their choices now are to accept ads into their Netflix and chill sessions, or they can pay an extra $6.50 per month.
Netflix Passwords, ChatGPT Can't Detect AI, and No More CoTweets | Editor Picks
The news was confirmed over the past week by users online and local reports out of Canada from the likes of The Winnipeg Free Press. The streaming service quietly made the change sometime this month, and the company confirmed the change was made only for Canadian Netflix users so far. Users who are still on Basic can continue using it for now, but any who dare pause their account until the next season of Stranger Things releases won't have access to the same pricing model.
The sudden change to Netflix's long-established pricing model is a massive sea change for the company that long ago eschewed any hint of ads for its streaming service. By removing Basic, users who were accustomed to paying $9.99 CAD per month are now forced to either drop down to the $5.99 CAD ad-based tier or pay $16.49 CAD a month for Standard. That upper tier does offer simultaneous streaming on two devices, and some other video quality upgrades, but Canada was also one of the initial markets to see password-sharing restrictions as well.
Netflix introduced the "With Ads" tier late last year as a means of bumping its revenue and gaining back stockholder support after a financially shocking early 2022. At first, outside analysis showed the tier was one of the least popular on the platform but it gained some traction early on in 2023, at least according to Netflix's internal data.
The streaming giant had previously started its password-sharing crackdown for test markets in Central and South America before moving to countries like Canada, as well as New Zealand, Portugal, and Spain. The company is eventually coming for U.S. users who dare share their password with friends or family, but it has yet to offer a firm date for the change. Netflix declined to share any more information about if this change could come for other markets in the future.
As reported by The Hollywood Reporter, Netflix claimed during its 2023 Upfront presentation last month that the ad-supported option had attracted nearly 5 million global monthly active users. Co-CEO Greg Peters further said that a quarter of new signups across the world choose With Ads.
Those numbers are consistent with outside analysis that shows more people are opting for ad-based tiers across multiple networks. A report from data analytics firm Antenna shows that while the Basic tier was the most popular subscription before With Ads came out, the service now sees more new signups from ad-based subscribers than non-ad subscribers. If Netflix is looking for more ways to squeeze customers, then getting their ad viewership numbers up while forcing users into non-shareable plans is certainly one way to do it.
Update 06/26/23 at 10:42 a.m. ET: This post was updated to include comments from Netflix.