There are huge gaps in scientists' knowledge about gender-affirming surgery in the United States. How common is it? Who gets it, and whose insurance covers it?

New research reveals that more patients than ever before are getting gender-affirming surgeries, and those operations are largely uncovered by insurance plans. Where in the US these surgeries take place has changed over the past two decades. Things seem to be improving, but there's still lots of work to do in order to improve the sorry state of transgender healthcare in the US, and a lot more research needed.
"The efforts to estimate the numbers of transgender individuals hospitalized and seeking gender-affirming surgery in the United States are fraught with methodological difficulties," the authors from Harvard and Johns Hopkins wrote in the paper published recently in the Journal of the American Medical Association—Surgery. "Largely due to the absence of routine, standardized collection and reporting of gender identity in health care settings."
This new research analyzed data from nearly 38,000 adult patients who visited a hospital and had a diagnosis code related to non-conforming gender identity.
They found a few things:
The number of and proportion of patients who visited hospitals for any reason and were marked as transgender increased threefold from the year 2000 compared with the year 2014.
Between 2000 and 2014, surgeons performed a total of 4,118 gender-reaffirming operations, including genital surgery, hysterectomy, and mastectomy, with the rate of surgeries per year increasing steadily over time.

The number of patients who were covered by Medicare or Medicaid increased by from 25 patients in 2012 and 2013 combined, to 70 patients in 2014 alone. The vast majority of patients paid for surgeries out-of-pocket.

Between 2000 and 2005, most of the surgeries were performed in the Midwest, but between 2006 and 2011, most were done in the West.
40 percent of the patients also had mental health diagnoses.
There's a lot to unpack here—it's clear that more people are getting these surgeries, though they're still somewhat restricted to those with higher incomes. The fact that most operations tend to take place in one U.S. region or another suggests that there are not many hospitals that offer these treatments, and patients are forced to travel to access care.
G/O Media may get a commission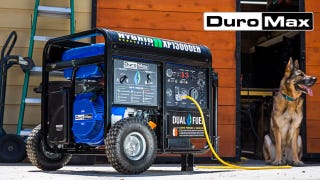 Black Friday Sale
DuroMax Generator Sale
As the researchers discuss in their paper, these surgeries are considered medically necessary by doctors—they are not cosmetic procedures.
Madeline Deutsch, clinical lead for the Center of Excellence for Transgender Health at the University of California, San Francisco, helped me understand better the importance of these new findings. She was not involved in the research.

"They prove scientifically what we've known anecdotally for some time," Deutsch said. "This is a result of changes in funding, insurance coverage expanding significantly, as well as increased visibility of transgender people in the media that has allowed people to feel more comfortable coming out. Employers and family are more supportive of people's transition goals."
She noted that it's still mostly white people who get these surgeries, something that has not changed over time, which is consistent with the continued disparities faced by transgender people of color more generally.
She also cautioned that the finding that 40 percent of trans people have mental health diagnoses does not suggest that trans people inherently have mental health issues. "Most of the mental health conditions are not because they're trans internally," she said. "It's because of the external pressures, biases, and experiences that transgender people experience in every aspect of their life, every day."
The authors of the paper called for further effort to improve data collection for gender identity in health care, and to ensure that this data is reported so it can be analyzed in the future. Deutsch wants to see more data on which surgeries have the best outcomes, which could help improve the quality of transgender health care.
The authors conclude that it all comes down to ensuring access to gender-affirming care. "Policies banning discrimination based on gender identity among third-party payers are essential to engage transgender patients in care and ensure coverage of these medically necessary procedures," they wrote.