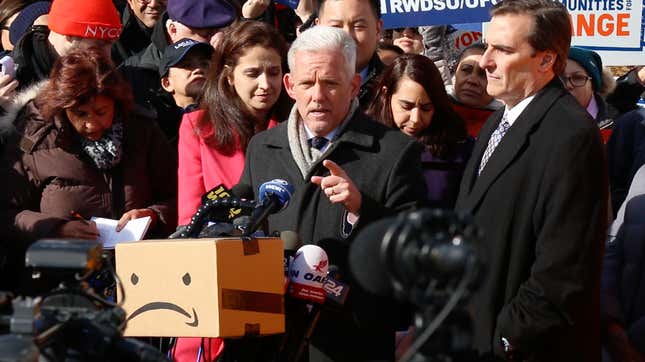 Long Island City—Hundreds gathered this afternoon at Gordon Triangle, smack dab in the middle of a newly proposed campus for Amazon employees. Ringed by local news crews, a coalition of local politicians led by City Council Member Jimmy Van Bramer and State Senator Michael Gianaris stated their intent to stop Bezos's highly incentivized land grab by any means necessary.

Taylor Lorenz Talks "Extremely Online"
"We are here to say to Amazon: Take that welcome mat that was rolled out for you yesterday, put it back in the package it came in, and send it back to Seattle where it belongs," Gianaris told the crowd. He claimed to have recently deleted the Amazon app, refusing to purchase anything through the ecommerce platform and encouraging others to do the same.
Beyond the astronomical subsidies being offered to Amazon in exchange for 25,000 promised jobs, the coalition—which includes City Council Member Stephen Levin, state senators Jessica Ramos and Julia Salazar, state assembly members Michael Blake, Latrice Walker and Ron Kim, and U.S. Representative-elect Alexandria Ocasio-Cortez—was broadly critical of the cloak-and-dagger tactics Amazon used to secure the deal, which Governor Andrew Cuomo and Mayor Bill de Blasio have attempted to paint as a boon to the city.
Many fail to see any silver lining to the handout. Yesterday, City Council Speaker Corey Johnson said in a statement he was "very concerned" that the process happened "behind closed doors, with zero community input."
"This has been entirely in the dark," Levin told the crowd. "I have a land use hearing tomorrow about a sidewalk cafe on Manhattan Avenue. There has been more public review of a sidewalk cafe than a $2 billion or $3 billion deal to bring Amazon here."
The protest's speeches became a catalog of the city's failings: rising rents, lack of affordable housing, a transit crisis, underfunded schools, public housing with no heat or hot water. All problems that represented more worthy uses of $3 billion dollars, and could even be exacerbated if Amazon gets its way. It was also an opportunity for some to highlight the company's less-than-admirable qualities, such as its willingness to take on government cloud contracts, desire to sell facial recognition software to ICE, and staunch anti-union stance.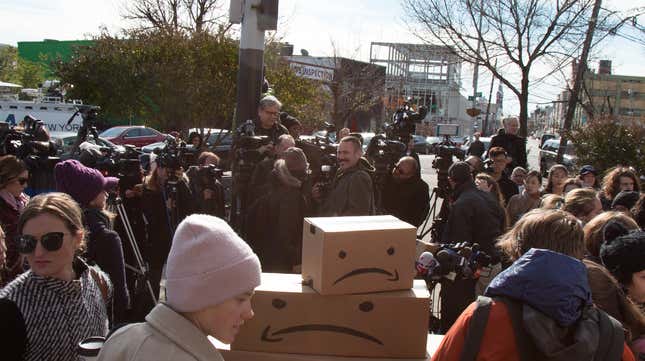 "Giving Jeff Bezos hundreds of millions of dollars is an immoral waste of taxpayers money when it's more than clear that the money would create more jobs and more economic growth when it is used to relieve student debt," Kim told Gizmodo yesterday. He plans to introduce legislation to reapportion these proposed incentives for exactly that purpose.

Widespread backlash to the plan had many wondering exactly who would benefit from what at first blush looks like a massive corporate handout. In a press conference yesterday, Cuomo stated that the subsidies are projected to bring a "9 to 1" return on investment. As Gianaris bluntly informed the crowd and assorted media outlets, "don't be fooled by the magic numbers going around—this is a bunch of bull."

"I've seen lots of projections, I've seen lots of numbers. I've also seen a helipad delivered to Jeff Bezos when people in Queensbridge don't have heat today," Van Bramer told Gizmodo, referring to the city's offer to "secure" helicopter access to Amazon. "There's just no telling us that this is the right thing being done for the right reasons."
The next steps for this coalition of assorted state and city officials is uncertain, but their intention to fight Cuomo, de Blasio, and Bezos tooth and nail appears genuine. As Gianaris stated today, "We will go to court if we have to."

Update 11/15/18 10:43am EDT: Add to the list of New York politicians embittered by this raw deal, US Senator Kirsten Gillibrand: