Nicolas Winding Refn is clearly a serious B-movie fan—an influence that's shown in the style and content of his own works, like Drive and Only God Forgives. And now his interest has expanded to producing remakes of some of the genre's classics, with a new title, 1972 giallo film What Have You Done to Solange?, joining his slate.
The news of the What Have You Done to Solange? remake comes after announcements that Winding Refn's production company, Space Rocket Nation, would also be taking the point on remakes of cult classics Maniac Cop and Witchfinder General. As with those films, Winding Refn will merely be producing Solange, not directin —and, again keeping with the pattern he's established, he'll be working with someone who was instrumental in making the original version of the film.
Deadline has the scoop:
Refn is teaming on Solange with a longtime collaborator in [Fulvio Lucisano, producer of the 1972 film that was directed by Massimo Dallamano], who has released all of his films in Italy. He also produced 1965's Planet Of The Vampires, a restoration of which Refn presented in Cannes last week. The Danish filmmaker tells me he'd been eyeing Solange for some time, and he and Lucisano had recently talked about hooking up on a remake. But it was the day after the Planet Of The Vampires screening that they decided to officially move forward.
Picking a giallo—lurid, gory Italian thrillers heavy on erotica elements; some of the genre's best were made by Suspiria director Dario Argento before that film elevated him to international horror fame—is an inspired choice for Winding Refn. He tells Deadline that he's a huge fan of the original (which stars the great Fabio Testi and I Spit on Your Grave's Camille Keaton, and is about a killer picking off comely female students) and feels that it fits in with his goal of finding "films that I think have a strong potential to be reinvented and also something that is artistically out there."
As with all of the increasingly busy Winding Refn's in-the-works remakes, Solange will be modestly budgeted and be shot in Los Angeles. No director has been selected yet.
G/O Media may get a commission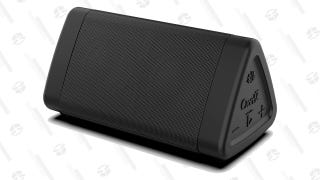 Save 31%
Oontz Angle 3 Portable Bluetooth Speaker