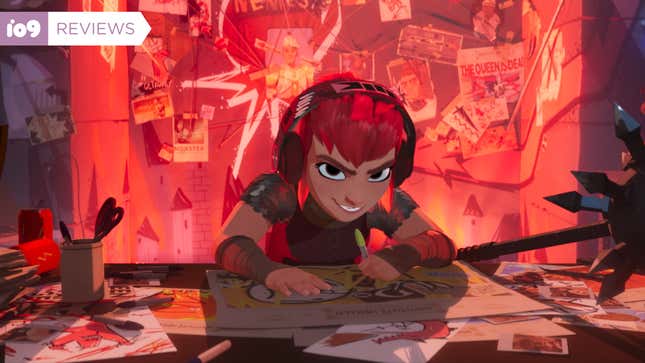 Taking place in a medieval-themed science-fantasy world, Nimona is a joyful, hilarious, and sometimes even painful romp that tackles what it means to be an outsider and explores how queer community can literally save lives. It is an incredibly poignant, deeply moving film that made me cry at least three times. It is full of layered, complex storytelling that explores a complete, articulate vision. From storybook beginnings to its cathartic ending, Nimona pulls no punches, and leaves you wiping away tears at the end.
Directed by Nick Bruno and Tory Quane, and adapted from the webcomic by ND Stevenson (She-Ra and the Princesses of Power), Nimona is a visionary animated film that pushes boundaries and then just keeps pushing harder, establishing stereotypes and then shattering them, often within the same five minutes. I also want to mention that the plot is very different from the webcomic, and to analyze those differences would be a disservice to both pieces of art. The screenplay, penned by Robert L. Baird and Lloyd Taylor, has retained the humor and absurdity of the original comic, and the story they've come up with is sharp, smart, and full of pathos.
The film follows two main characters: the shapeshifter Nimona (Chloë Grace Moretz), and Ballister Boldheart (Riz Ahmed), a man who has trained all his life, and through his own adversities, to fight monsters. At Ballister's knighting ceremony—where he would finally become a knight of the kingdom—something goes wrong and he is framed for the murder of the queen. Nimona, an agent of absolute chaos, thinks she's found a kindred anarchist spirit, and tracks him down, declaring herself his sidekick.
For the next hour and a half Ballister attempts to clear his name and find out who really murdered the Queen and why, and uncovers more and more untruths about the kingdom he swore to protect. Nimona has to be convinced against causing a lot more murder than she would like, and her shape-changing causes a lot of questions, fear, and hatred in the Kingdom. Meanwhile, Ambrosious Goldenloin (Eugene Lee Yang), the literal golden boy of the realm, is also trying to find the truth of the queen's death, and if the institution of knights themselves had anything to do with it.
Nimona is also, unashamedly, absolutely, without any doubt, a queer story. In the first five minutes, literally, we get a scene where Ballister and Ambrosious hold hands. They say "I love you." They are lovers, partners, boyfriends, whatever you want to call it, but they are in love, and this is deeply important to the plot as the two men try to figure out where the real betrayal lies. It is also shown without fanfare, without buildup, and with no explanation needed. These are two men in love, and that will be important to the characters' emotional and narrative journeys throughout the film. It's that simple, and it is incredibly important to recognize that.
Additionally, there is no denying that Nimona herself is a trans allegory. In the original webcomic, there was always a vibe of transness to her—she is a shapeshifter who is regarded as a monster because of her abilities, something a lot of trans people can relate to. There are many conversations between Nimona and Ballister that are a direct allegory to the way that "concerned adults" speak to trans people, and trans kids specifically. Her transness is literally in the text. While Nimona's transness might have been an accidental undercurrent in the webcomic, Stevenson, looking back at the time he spent drawing and working on the webcomic, realizes now that it "seems obvious in hindsight," especially considering his own experiences.
It would be a disservice to Nimona to talk about queerness without also acknowledging the queerness of her creator. Over the past two years or so, Stevenson has publicly transitioned and established himself as a transgender person. He's done this mostly through his very excellent comic-forward substack, which includes poignant vignettes about his life, his transition journey, and his art. We cannot ignore that Nimona is a queer film, developed from a comic written by a trans author, with three queer characters at its center. It's important to understand that the way the transgender allegory is expressed is stunning and authentic, clearly rooted in Stevenson's own experiences, and treated with respect, kindness, and compassion, even when it is very, very hard to watch.
Nimona is frequently called a monster. It's a part of the kingdom's culture, it's just how it is. She continually questions the established narrative and says over and over she's not a girl, not even human, but Ballister—and really, the whole world—keeps trying to put her in a girl-shaped box. Seeing my own experiences, my own feelings with gender, reflected back at me over and over was difficult to watch at points, but Nimona knows who she is, and it's her self-confidence and self-assuredness propels the film even through the most gut-wrenching moments. The film is not delicate with its messaging.
Nimona has had an arduous release journey. It started off at Fox subsidiary Blue Sky Studios in 2015. There were some delays, and then production slowed considerably when Fox merged with Disney in 2019. Execs and creatives clashed over Nimona's queer themes and apparently pushed for the removal of a gay kiss. After Blue Sky was shut down in 2021, many suspected that Disney would never allow the unfinished film to be released. And then, in 2022—despite the odds, the queer themes, and the delays—Annapurna was able to take the film to Netflix, and now, Nimona is finally out of the closet.
And holy fuck, was all that bullshit worth it.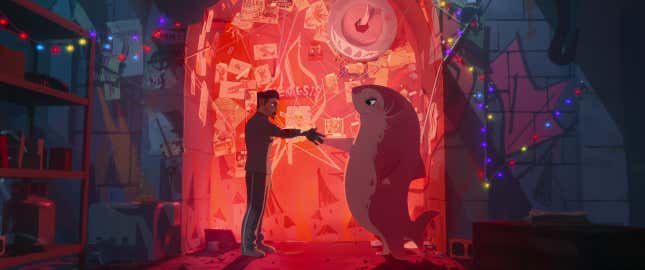 Nimona is hilariously funny, tightly scripted, well animated, beautifully voiced, and resonates with a vulnerable, emotional message about loving what makes us outsiders, about loving who we are, even when it hurts. Despite the light-hearted jokes, the fast-paced plot, and the whip-fast dialogue, Nimona doesn't shy away from heavier moments. A content warning: this next part discusses suicidal ideation and attempts.

This movie is not subtle when it comes to transgender themes and storylines, but to directly deal with the heartbreaking reality that 50% of trans and gender non-conforming children young adults have suicidal thoughts, ideation, or attempt suicide was not something I was prepared for. To watch a film where a character struggles with suicidal ideation and is allowed to experience grief, pain, and express the cumulative effect of a lifetime of hatred was exceptionally powerful. Nimona is, as a whole story, an emotionally fraught love letter to the resiliency of trans people and how just one person truly seeing you can be the difference between life and death.
Nimona is a triumph. It is a reckoning, a rallying cry, and a desperate vision of a hopeful future. Nimona questions everything, even itself, and the final result is a masterpiece of animated storytelling. It is an incredibly mature adaptation of ND Stevenson's original webcomic, unafraid to adjust the narrative to better emphasize its themes, tell a more focused story, and explore what it really means to trust when people show you who they are.
Nimona will release in select theaters on June 23, and be available on Netflix on June 30.

---
Want more io9 news? Check out when to expect the latest Marvel, Star Wars, and Star Trek releases, what's next for the DC Universe on film and TV, and everything you need to know about the future of Doctor Who.