The Dark Knight's director is finally setting the record straight on a few Batman rumors. And while it's no major surprise that the Joker won't be recast for a third film, we're sad about what else didn't make the cut.
Nolan sat down with Empire Magazine to talk Inception, but he also managed to shut the door on fan speculation that the Batman and Superman movies might take place in a shared universe. And he hinted at who might be coming back for the third film.
First and foremost Nolan "emphatically and unhesitatingly" stated that The Joker will not be recast for the next film, "I just don't feel comfortable talking about it." He also stated that Mr. Freeze [which he's stated before] and The Penguin are out of the running for Batman 3's villains. Which makes us think it might be The Riddler and Catwoman!
As for the current status of the project Nolan said his brother was still working on the screenplay, but that this will have a finite conclusion:
We came up with a story that we are very excited about. We particularly like where we are taking the characters and what the ending is. There are things for me to be very exited about in addressing the characters again, but ultimately it always comes down to the script, and can we make a great film from this? Thats something I will firmly be turning my attention to figuring out fairly soon. [This film will be] the ending of a story rather than infinitely blowing up the balloon and expanding the story"
G/O Media may get a commission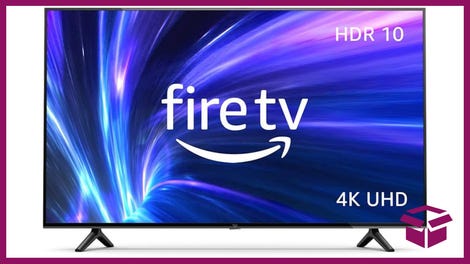 42% Off
Amazon Fire TV 50" 4K Smart TV
Meanwhile, now that Nolan is overseeing both the next Batman and Superman films — he still hasn't committed to directing the third Bat-film, but it sounds highly likely — some fans have hoped that the two characters could cross over, or at least exist in the same universe. But Nolan's against the idea.
"Marvel are doing what they are doing and people will either respond to that really well or they won't. Its not something I ever applied a blanket rule to, but Marvel characters are very different to DC characters....You've got to go back to that element of "What do I see when I close my eyes and think of Batman/Superman?" And for me a big part of that is their individuality. They are extraordinary beings in an ordinary world....they are two very different characters but theres an elemental feeling of power in the iconography of those characters. To me thats originally because they stood alone, I need to hang onto that in my imagining of them."
[Empire Magazine via CBM]