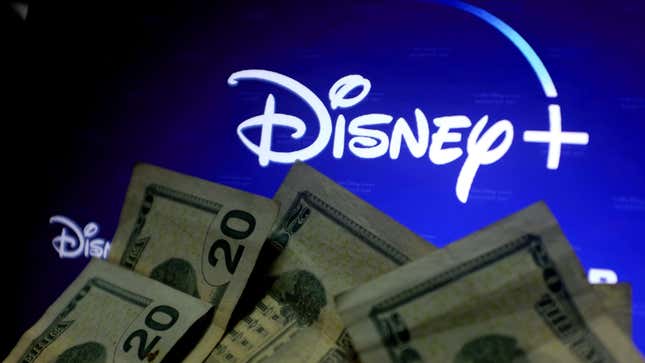 Disney is watching Netflix like a hawk, trying to consider whether or not restricting people from sharing their accounts with friends and family would be a good way to push back against streaming losses. In the meantime, the House of Mouse is going with the tried-and-true method of drastically making its streaming services more expensive.
Johnny Knoxville Loved Collectibles | First Fandoms
Both Disney+ and Hulu are getting a price bump for ad-free streaming. Disney+ without ads will jump an extra $2 to $14, while the ad-free version of Hulu will jump to $18, an increase of $3. This price bump is set to go into effect Oct. 12.
In addition, the company is trying to advertise a new "Duo Premium" ad-free Disney+ and Hulu bundle for $20 a month. That bundle will become available Sept. 6, but it effectively replaces previous offerings. Right now, the company offers a "Trio Premium" streaming bundle for $20 a month that includes Disney+ and Hulu without ads, as well as ESPN+ (which always has ads). The new Trio Premium will cost $25 a month by Oct. 12.
Even with things getting more expensive, Disney CEO Bob Iger seems ready to blame its users for daring to share an account with friends and family. Iger said during the call that the number of people sharing passwords was "significant." The Disney head added that the plan is to start trying something to hinder password sharing by 2024.
"It's possible that we won't be complete or the work will not be completed within the calendar year, but we certainly have established this as a real priority," he said, adding he sees it as a way to, "grow our business."
Streaming across the board is getting more expensive, but Disney's premiere platform has taken major hits the last few months. In February, the company lost nearly 2.4 million subscribers, mostly due to the end of Hotstar, which played host to millions of Indian cricket fans. The company lost another 12.5 million subscribers from Hotstar, but it also experienced a dip of 300,000 subscribers in the U.S. and Canada while gaining more in the international market. Hulu's streaming numbers essentially held firm.
The company also claimed it saw a small increase in the average monthly revenue per paid customer due to higher per-advertiser revenue for both Disney+ and Hulu.
Netflix has significantly restricted account sharing in places like Canada, New Zealand, Portugal, Spain, and several countries in Latin America. When it came time to do the same thing in the U.S., Netflix put account sharers on notice, but so far it has yet to completely pull the trigger.
That may be because Netflix already got what it wanted from the threat, alone. According to analytics firms such as Antenna, Netflix saw a 102% spike in the number of daily account sign ups just after the company sent out its infamous "Update on sharing" email. Then, in its second quarterly earnings report for 2023, Netflix said it added nearly 6 million subscribers during its crackdown. Co-CEO Greg Peters said "we're seeing that [the account sharing restrictions are] working" for all regions.
Shareholders and stocks hawks love all this stuff about password sharing, as they see it as one of the few untapped markets for streaming that hasn't already reached near-saturation. The other end of the stick is ad-based subscriptions. With price hikes and cancelled subscription tiers for ad-free offerings, these companies are trying to incentivize more people to go cheaper and watch the more easily monetizable ads.
Both Netflix and Disney are being cited by the current WGA and SAG-AFTRA strikes, especially surrounding the utter decline in residuals and worker pay during the streaming era. Disney CEO Bob Iger said he was trying to "quickly" find some way to appease strikers and restart the content mill. The company is expecting to spend $27 billion on content in 2023, which is less than previously anticipated before the writers and actors started demanding some basic equity from the multi-billion dollar entertainment industry.