Star Wars is obviously going to everywhere in the coming months as we gear up for The Force Awakens, but some of its promotional partners are more surprising than others. Take, for example, CoverGirl, who is not only doing a limited edition makeup line, some of it features new quotes from the film.
Some of this stuff leaked a few months back but is just now becoming official. Allure Magazine has the full reveal on the series, which includes lipstick shades like dark purple (if you're an Emperor girl), gold (for the C-3PO fan), red (if the Imperial Guard is more your thing), lilac (for a Cloud City mood), silver (if you want a Millennium Falcon look) and nude (for that Tatooine suntan). There are also nail glosses called Speed of Light, Nemesis, Red Revenge and light and dark side mascaras.
That's all fine and fun, but there's actually info about The Force Awakens, thanks to the above mascaras with quotes on them. Ten quotes, seven of which are from the original trilogy of films, and then three we haven't heard before, meaning they're from The Force Awakens. Those are:
"I will finish what you started"
"There has been an awakening"
"Immune to the Light"
"There has been an awakening" is Supreme Leader Snoke, played by Andy Serkis. We heard that in the first trailer. The other two—"I will finish what you started" and "Immune to the Light"—are more curious. The former sounds like something Kylo Ren might say, as we know he's obsessed with Darth Vader and Vader never truly finished his evil quest. The latter also sounds villainous, but also etherial, meaning it could be Ren or Snoke as well. We'll find out soon.
G/O Media may get a commission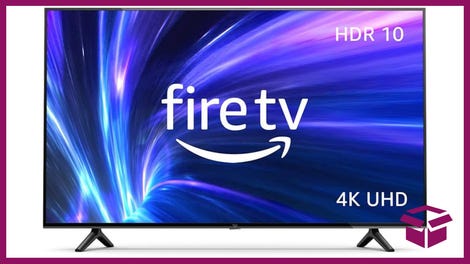 42% Off
Amazon Fire TV 50" 4K Smart TV
If you can believe it, there's actually even more to say about this CoverGirl Star Wars team up. The ad campaign is kind of beautiful, showing off different ways ladies can use the projects to look like they're from a galaxy far, far away. Here's are two examples, Droid and Stormtrooper.
All of these should be on shelves September 4, also known as Force Friday.
---
Contact the author at germain@io9.com.