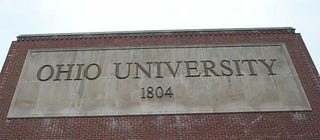 Ohio University, a current target of the RIAA's lawsuits, has decided to pretty much bend completely to the wishes of the RIAA and has banned all P2P activity on their network. The ban goes into effect on April 27th, and it doesn't differentiate between legitimate P2P file sharing (such as the BitTorrent store) and the copyright-violating variety.
This is a pretty lousy move by OU. There are plenty of completely legit uses of P2P services such as BitTorrent, as many large (legal) files are easier to distribute that way. By simply banning it completely they're putting the wishes of the RIAA above the freedom of their students. Boo to you, Ohio U.
Hit the jump for the entire letter OU sent to its students.
Dear OHIO Students,

Ohio University's computer network is central to many academic,
research and university-life activities, providing reliable
communications not only on campus but also across the world. Because
this network is a shared resource, we must ensure that it is available
to all campus users equally. Peer to Peer (P2P) file sharing
currently consumes a disproportionate amount of campus technology
resources, including both bandwidth and technical support. It also
poses risks to the security of our network by opening ports on
individual computers that can be used to spread viruses and spyware
or to launch attacks against other computer systems. Finally, it
often is used for illegal distribution of copyrighted works over our
network.

In accordance with OHIO's Computer and Network Use policy 91.003, we
will begin restricting P2P file sharing on our campus network at 12:01
am on Friday morning, April 27, 2007. Beginning then, any campus
computer that we detect in violation of this policy will have its
Internet access disabled until its owner or primary user contacts the
IT Service Desk at 740-593-1222 and agrees to work with us to resolve
the problem and to abide by the university's Computer & Network Use
policy in the future. A second violation on the same computer will
result in that computer's Internet access being disabled until further
action is taken by the appropriate disciplinary body. Students will
be referred to University Judiciaries. Other network users will be
handled in a manner consistent with established university disciplinary
policy.

This approach applies to all users of our campus network and will be
enforced consistently.

To learn more, visit: http://technology.ohio.edu/help/blocked-faq.html

OHIO's Computer & Network Use policy can be found here: http://www.ohiou.edu/policy/91-003.html

If you have any additional questions or need help with the
configuration of your computer, please contact the Service Desk at
740-593-1222 or .

There will be an information session about this new policy for all
campus network users at noon on Thursday, April 26 in Baker Center 230.

Sincerely,
Mr. Brice Bible, Chief Information Officer
Dr. Kent Smith, Vice President for Student Affairs
Thanks, Chris!