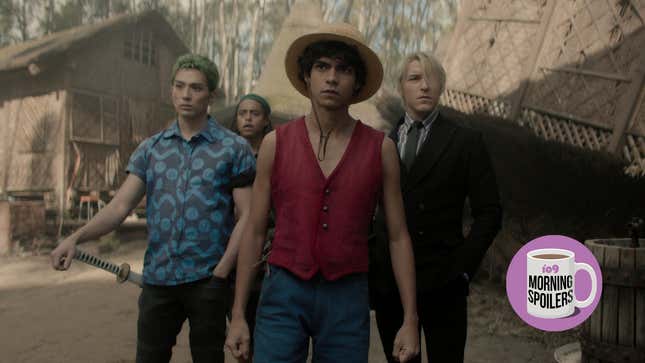 Sure, we're all busy playing Baldur's Gate, but if you have a minute to look up from the screen, we're here to tell you about what's coming up on...well, your other screen, probably. Check out the trailer for Marvel's I Am Groot and keep your eyes out for the Korean film Devils, hopefully coming to a big screen near you. Spoilers, ahoy!
---
Final Destination 6
During a recent interview with Collider, series creator Jeffrey Reddick stated Final Destination 6 "unearths a whole deep layer" of the franchise's ongoing mythology, although he remains cagey as to what that layer actually is.
This film doesn't just kind of add another layer. Usually there's a new layer every film where it's like, 'Oh, well, this can save you or this can save you.' This film dives into the film in such a unique way that it attacks it from a different angle so you don't feel like, 'Oh, there's an amazing setup and then there's gonna be one wrinkle that can potentially save you all that you have to kind of make a moral choice about or do to solve it.' There's an expansion of the universe that – I'm being so careful.

There's an expansion of the world of Final Destination that I think fans are gonna be really interested in and intrigued by. When I say it doesn't add a layer, it's not just, 'Hey, if you murder somebody in your place, you'll live.' It kind of unearths a whole deep layer to the story that kind of, yes, makes it really, really interesting.
---
Scary Stories to Tell in the Dark, Part II
André Øvredal provided IGN with an update on his long-awaited sequel to Scary Stories to Tell in the Dark.
We have a story. We have a script. We've been working on the script as late as last year and even slightly into this year. The process obviously stopped with the strike — but it's alive, for sure. COVID and then [The Last Voyage of the Demeter] eating up two years of my life certainly put a dent in the progress.
---
Zombie Town
Bloody-Disgusting reports the film adaptation of R.L. Stine's Zombie Town starring Dan Aykroyd, Chevy Chase, Henry Czerny, Marlon Kazadi and Madi Monroe has been rated "PG-13" for "some language and bloody images."
---
Devils
Following its premiere at the Fantasia International Film Festival in Montreal, Cineverse has acquired the U.S. distribution rights to Devils, a body-swap thriller from Kim Jae-hoon said to premiere on Screambox this fall. Starring Oh Dae-hwan and Jang Dong-yoon, the story follows "a determined homicide detective assigned to take down the ring of serial killers" who murdered his brother-in-law. After he "finally collides with the murderer, an unexpected turn of events" finds him "trapped in the body of the very killer he sought to apprehend. "
[Deadline]
---
Yellowjackets

Appearing as a guest on Variety's Awards Circuits Podcast, executive producer Karyn Kusama revealed the third season of Yellowjackets will finally see the surviving teammates re-enter society.
I've been so excited by this. The concept of that immediate aftermath of re-entry into the world, to me, there's a whole season worth of material there. And the fact that this is such a long game that each of these characters is facing, in terms of reorienting themselves to whatever normalcy is supposed to be. I'm sure we're going to learn that their normal is a lot different than our normal…there's a lot that needs to be figured out between Season 2 and Season 3.
---
One Piece
Netflix has released a few new images from its live-action One Piece adaptation, premiering this August 31.
---
Hellbound
According to a new teaser, production has also officially begun on the second season of Hellbound at Netflix.
---
I Am Groot
Groot builds a deadly snowman, gains a sense of smell and chases an ice cream truck through space in the trailer for the second season of I Am Groot.
---
Kung Fu Panda: The Dragon Knight
Elsewhere, Po travels to England in the trailer for the third season of Kung Fu Panda at Netflix.
---
Star Wars: Ahsoka
Ahsoka Tano puts her team of rebels together in the latest TV spot for Star Wars: Ahsoka.
---
Star Trek: Strange New Worlds
Finally, Starfleet receives a message from the Gorn in a clip from "Hegemony," this week's season finale of Star Trek: Strange New Worlds.
---
Want more io9 news? Check out when to expect the latest Marvel, Star Wars, and Star Trek releases, what's next for the DC Universe on film and TV, and everything you need to know about the future of Doctor Who.