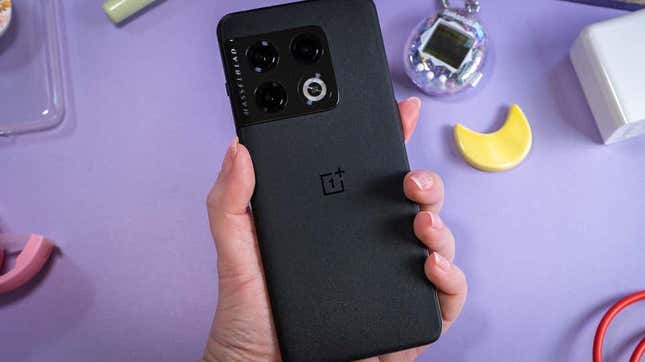 OnePlus could be the next major Android brand with a foldable smartphone. A circulating leak from the Chinese patent offices indicates the company may already be laying the groundwork to offer an alternative for U.S. users.

The iPhone SE Offers Almost Everything You Want In An iPhone
A trademark listing discovered through the China National Intellectual Property Administration (CNIPA) shows a company —Shenzhen Oneplus Technology— filing two patent applications for a "OnePlus V Flip" and a "OnePlus V Fold," respectively. Yes, you would be correct in thinking they sound exactly like the corresponding Samsung versions of each device. They probably fold the same, too.
I accessed the patent through a link provided by 9to5Google, which has a screenshot of the listing on its site. Twitter user Mukul Sharma initially spotted the names of the smartphones. The pre-Elon verified account notes that internal testing of at least one of the mentioned foldables has begun at the OnePlus headquarters.
Rumors of the OnePlus foldables aren't new. They've been circulating more heavily since last summer, especially after OnePlus's co-founder, Pete Lau, tweeted a look at a hinging mechanism. It was unclear at the time whether it was for a OnePlus device or a smartphone for its parent company, Oppo.
Oppo has a foldable smartphone circulating overseas. The Find N2 launched in December, and it's reviewing pretty well in other markets. It's a bit shorter than Samsung's Galaxy Z Fold 4, which it takes after, and has a slightly different aspect ratio. CNET says it's somewhat squarish compared to the Z Fold 4's relative rectangularity. It would be no surprise to see Oppo attempt a similar form factor under the OnePlus moniker since it's already an established brand in North America.
OnePlus also has the added benefit of being known as an affordable flagship brand. It's managed to keep the OnePlus 10 Pro and 10T under the $900 mark, eventually dropping the 10 Pro down to under $600 for similar specifications stuffed into Samsung's Galaxy s22 devices.
Folding phones will likely remain pricey until they become more common. Samsung's current batch of foldables are too expensive, even with the cheapest foldable coming in at $1,000. It would be an excellent addition to the current folding smartphone portfolio to have something with a more accessible price point compared to Samsung's Flip and Fold. That said, don't expect too much of a discount. The Find N2 starts at $1,512 for 8GB of RAM and 256GB of storage space, which is almost $300 less than the Z Fold 4.
There's no word on whether any of this is official yet. OnePlus's foldable smartphones are still just a rumor. But it sure is nice to think of a time when folding smartphones won't cost as much as a mid-range laptop. Some older options like the rebooted Motorola Razr are already hitting steep sales, but even that still debuted at $1,500.