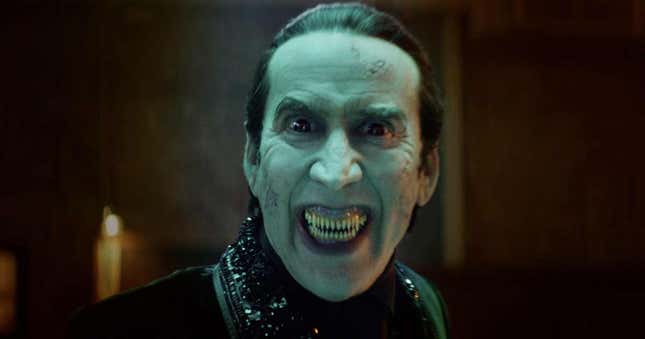 One of the big movies of the week is Universal's Renfield, a modern take of sorts on Bram Stoker's Dracula. Seeing Nicholas Cage ham it up as the legendary vampire in question is meant to be one of the film's main draws, and as it turns out, it's not the only the film Universal's cooked up for Dracula. Come August, we're due for a more horror-focused take on the character in The Last Voyage of the Demeter, which is intended to adapt a single chapter from Stoker's novel into a feature length film.
Spoilers of the Week: July 1st
Ever since Dracula first appeared in the 1897 novel, the character has been adapted in countless other forms of media, including plays, movies, and TV shows. For the most part, several of these Dracula variants try to match how how he was portrayed in either Stoker's book or how the character was presented in the Universal movies that helped popularize him. Even when the tone gets silly, there's usually some DNA of the source material built in there, even if it's just a gag. As far as the present day goes, though, there's two movies that have cemented the character's pop culture status: Francis Ford Coppola's 1992 film Bram Stoker's Dracula, and 2004's Van Helsing, where it turns out Dracula is Van's father in the last 10 minutes of the movie.
In recent years, the character's been kept around in thanks primarily to animation. Netflix's Castlevania series (based on Konami's long-running video game franchise) painted him as a sad, depressed man who would occasionally show a spark of his former self, but was mainly content in mourning his dead wife while his lieutenants did their own thing. On the other end of the spectrum, you've got Sony's Hotel Transylvania series, where he's decided to open a hotel for monsters and reconnect with his teenage daughter.
Outside of animation, though, we've been bereft of Dracula for some time now. Vampires at large have been a fairly popular for over a decade now—see The Vampire Diaries, Twilight, and next month's vampire game Redfall—but the main main himself hasn't gotten much big screen play since 2014's Dracula Untold. Karyn Kusama's Dracula movie has been scrapped, though it looks like Eternals director Chloé Zhao will get to take a swing at him, with the pitch being that it's set in the universe of a sci-fi western.
For this week's Open Channel, we wanna know your favorite or most memorable version of the vampire that sticks out in your mind. Or failing that, what you thought of Renfield, if you got the chance to see it over the weekend.
---
Want more io9 news? Check out when to expect the latest Marvel, Star Wars, and Star Trek releases, what's next for the DC Universe on film and TV, and everything you need to know about the future of Doctor Who.