We've known for a while that one of Superman's most infamous villains would be making his way to Syfy's prequel series Krypton—but now we've got our first look at the sinister cyborg Brainiac in action, as well as the show's haunting version of his spaceship.
USA Today has officially revealed the first image of Blake Ritson in costume for the show's take on Brainiac (not to be confused with Supergirl's Brainiac-5), with a look pretty faithful to his comic appearances. Although he looks a little worse for wear than he usually does:
I guess hooking yourself up to your giant floating skull-ship all the time is gonna leave you looking a little emaciated. A new featurette released to go with the new image gives us a few more glimpses of Ritson in action, as well as the show's take his famous Skull ship, which actually looks really creepy and cool:
The skull design is still there, but now it's just massive and sprawling and... weirdly smokey. It's almost like the Grim Reaper, but in spaaaaace.
G/O Media may get a commission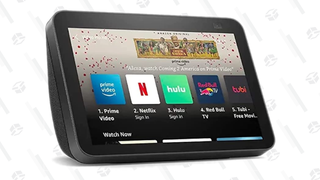 It's perhaps one of the more intriguing things to have come out of Krypton's take on the pre-Superman saga so far. Krypton is set to premiere on Syfy March 21.