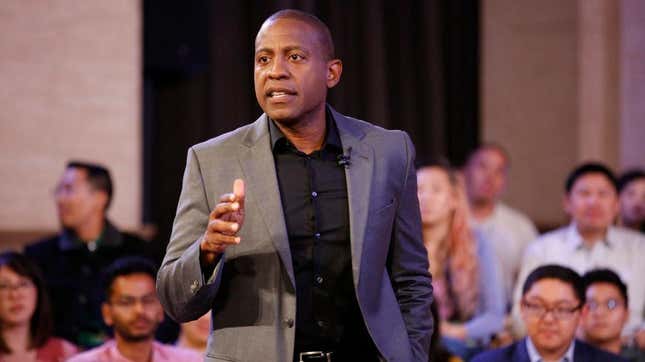 Ozy CEO and co-founder, Carlos Watson, was arrested on Thursday for conspiring to commit securities fraud and conspiring to commit wire fraud. His arrest comes just days after fellow co-founder and Chief Operating Officer Samir Rao and Suzee Han, Ozy's former chief of staff, pleaded guilty to fraud charges.
Misha Collins on What Made Supernatural Successful
Watson is now accused of engaging "in a scheme to defraud OZY's investors, potential investors, potential acquirers, lenders, and potential lenders," according to federal court records as reported by CNN.

He will reportedly be arraigned in a Brooklyn, New York federal court, and his lawyer, Lanny Breuer told the Wall Street Journal, "We are really disappointed. We have been acting in good faith and believe we had a constructive dialogue with the government and are shocked by the actions this morning."
Ozy was a media and entertainment company that launched in 2013 but received negative media attention when The New York Times reported in 2021 that Rao had misled Goldman Sachs Group Inc. investors during a fundraising call by impersonating a YouTube executive.
The conversation revolved around a $40 million deal to invest in Ozy, but Watson argued that Rao suffered from mental health issues which prompted his behavior and since Goldman Sachs hadn't agreed to invest in the company, there was no harm done.
The company released uncertain and often uncredible information about its practices and when The Times first reported on the scandal, Ozy was reportedly still open although Watson announced it had shut down in 2021.
Rao pleaded guilty under the name John Doe in a secretive trial that allowed an ongoing investigation into Ozy's practices by Brooklyn's U.S. attorney's office. He admitted to misleading investors between 2018 and 2021 and told prosecutors he had falsely increased Ozy's financial information, and admitted to taking on another person's identity between February 2020 and February 2021.
Suzee Han, Ozy's former chief of staff, told a magistrate judge that two executives directed her to falsify financial information, but did not specify who the two were. Han pleaded guilty to conspiracy fraud charges under the pseudonym Jane Doe.
Breon Peace, the United States Attorney for the Eastern District of New York, told CNN, "As alleged, Carlos Watson is a con man whose business strategy was based on outright deceit and fraud – he ran Ozy as a criminal organization rather than as a reputable media company."
Thursday's arrest comes only 2 weeks after Watson staged a bizarre comeback. As Semafor reported, the embattled CEO tried to rebrand Ozy as a "fresh," "hip," digital media outlet in a 30 minute presentation to potential advertisers and investors.
If convicted, Watson faces a minimum sentence of two years in prison up to a maximum of 37 years.