Earlier this year, we got a peek at Parrot's svelte new Bebop drone. And earlier today, I got to fly it. I crashed it immediately—you probably will too—but that's totally fine. It'll survive, and flying it is still a blast.
When I showed up at Parrot's Bebop demo, my piloting skills were pretty rusty. It had been many months since I'd flown the AR.Drone 2.0, so when I picked up the tablet and started my flight—inside a SoHo loft, I might add—I smashed the Bebop into a pole within 30 seconds. That's noteworthy, not only because the drone was entirely unscathed, but also because I didn't crash it again.
That's because the Bebop is agile enough that you can easily fly it around a large room full of obstacles, and the Freeflight 3.0 app controls are intuitive enough that you can pick them up almost immediately. Within one crash, at least.
And since the on-board 160-degree camera and four shock absorbers keep the image level at all times, there's no need to worry about keeping the aircraft level just to see straight.
The Skycontroller is where things get really awesome. This pleasant but hulking remote control improves upon the drone's RC ancestors by giving you nimble joysticks for steering the Bebop, mounted right on the tablet or smartphone you're still using as the main control screen. On the front is a huge Wi-Fi antenna that boosts the drone's range, in addition to the Playstation-like joysticks in the corners that offer more control over the camera. It's all powered by Android and the same battery that you'd use for the drone.
G/O Media may get a commission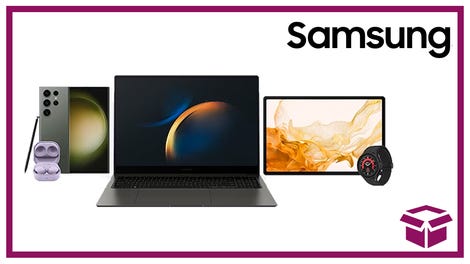 24 hour deals
Discover Samsung - Daily Deal
Flying the Bebop with the Skycontroller is definitely better than flying with just a tablet or smartphone, but that's definitely a bonus, not a necessity. It also comes with an HDMI port so that you can plug in first-person-view glasses like Oculus Rift. While the tactile feedback of the physical controller will thrill RC enthusiasts with a little extra money to spend, the Bebop flies fine without it.
The real test for the Bebop is whether it can bridge the divide between being a toy and being a tool. As a toy, it's expensive at $500, but undeniably fun. As a prosumer device, it's almost there. The FPV feature is awesome, but some beta testers say they noticed an annoying lag. I got to see out of the Bebop's eyes with the Zeiss Cinemizer, however they didn't let me fly the drone at the same time so I can't speak to the lag. With the bulky HDMI cables and possible lag, though, it seems like the FPV feature isn't quite there yet.
The Bebop drone will be available at Apple Stores and Best Buy for $500, starting in December. The compact little aircraft comes in primary colors—red, blue, and yellow—and features removable bumpers for safe flying both indoors and out. It also comes with two batteries, which is nice considering each one only affords 11 minutes of flight time. For another $400, you can also get a very fancy-feeling Parrot Skycontroller, which extends the drone's Wi-Fi range by about a mile and a half. Without the Skycontroller you're limited to a little over 800 feet.
We plan on spending more time flying—and possibly crashing—the Bebop, so stay tuned for a full review. At first touch, however, flying this handsome little guy is a fantastic experience. Like the AR.Drone before it, the Bebop feels like it's bridging a gap very gracefully.