Even though the very newest gadgets and gizmos are our lifeblood, we're also in love with products that achieved perfection ages ago. We're dedicating a section of Gizmodo Gallery to iconic product designs so excellent that history won't forget them.
It's our job to cover technology's persistant advances, sure, but there's something gorgeous about the designs we like to call Past Perfect. Some of these products, like the Sony Dream Machine ICF-C10W and the Polaroid SX-70, are long gone—the victims of technology's relentless march through history. But our love ain't so much nostalgia as admiration.
These were and continue to be incredible products. They each fulfilled a singular need so well that perfection, in some small sliver of our existence, suddenly seemed attainable. They helped usher in a new epoch of product consciousness. Far from gone, their influence lives on in the countless derivations we all use every day.
G/O Media may get a commission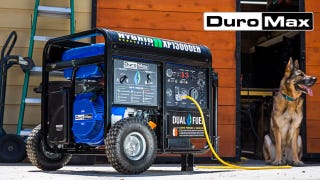 Black Friday Sale
DuroMax Generator Sale
Gizmodo Gallery 2011 @ White Box
329 Broome Street. New York, NY, 10002
Monday, December 5th
Press Day, Press Only
Inquiries to media@gizmodo.com
Tuesday, December 6th
12noon – 5pm
All Day Special Event: World's Largest Multi-Touch LCD
Party: Opening Party Invite Only 7pm - 10pm
Wednesday, December 7th
12noon – 8pm
Special Events (secret!)
Party: Gizmodo Reader Meetup and Nerf Party 9pm - 11pm
Thursday December 8th
12noon – 8pm
Special Event at 6pm: Home Theater How-To and Demo Session
Party: Kotaku Reader Meedup with 3D Gaming
Friday, December 9th
12noon – 8pm
All Day Special Event: MarkerBot Demos
Special Event at 6pm: Artist Talk - Micah Ganske's MakerBot Experience
Saturday December 10th
11am - 8pm
All Day Special Event: Free Pictures with Lego Santa Yoda
Sunday December 11th
11am - 6pm
All Day Special Event: Free Pictures with Lego Santa Yoda
Read more about the Gizmodo Gallery here and follow @gizgallery on Twitter. Special thanks to Land Rover - without them, there would be no Gizmodo Gallery.