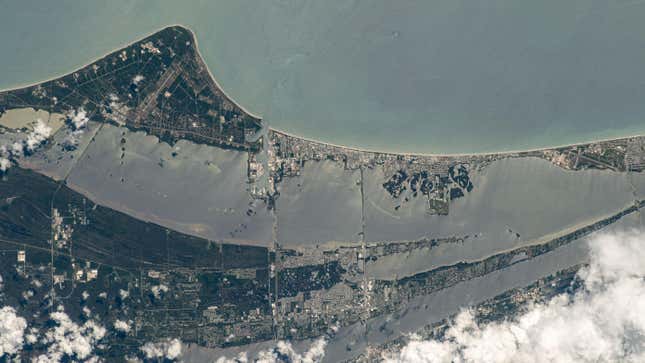 A secretive launch planned for this week from Florida's Cape Canaveral could be a test of a hypersonic weapon as the U.S. tries to catch up with the speedy missiles of Russia and China.

Taylor Lorenz Talks "Extremely Online"
The National Geospatial-Intelligence Agency issued airspace and maritime navigation warnings for Cape Canaveral Space Force Station in Florida from September 6 to 8, suggesting the second launch attempt of a hypersonic missile test. The trajectory for this week's launch aligns with a hypersonic missile test that was originally planned for March.

Marco Langbroek, an astrodynamics lecturer at Delft Technical University in the Netherlands, plotted the hazard zones that were announced this week and compared them with ones that were outlined for a scrubbed launch earlier this year.
In March, similar navigation warnings for Cape Canaveral popped up but no launch actually took place. The U.S. Army later announced that it had scrubbed a test of a Long-Range Hypersonic Weapon (LRHW) due to a battery failure detected during its pre-launch check.
"The conclusion that this is a LRHW test I draw mainly from the similarity to the March test, which we know was LHRW because it was acknowledged at the time," Langbroek told Gizmodo in an email. "They are very similar, and the 'forked' character is more or less unique to these two occasions."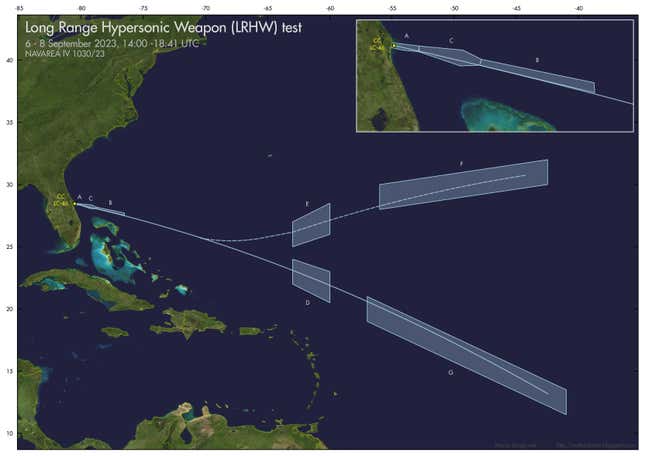 That forked pattern outlined in the map above points to some kind of maneuverable payload like a hypersonic glider, according to Langbroek. Areas A-C line up with launch pad 46 at Cape Canaveral, the same launch pad that was to be used for the scrubbed March test, he added.
Hypersonic missiles are capable of flying at five times the speed of sound. These weapons are not new. In fact, the U.S. military began developing hypersonic weapon technologies back in the 1960's. In recent years, however, the U.S. has fallen behind against Russia and China, something that they are desperately hoping to change. Although it is now at zero hypersonic missiles, the Pentagon's 2024 budget proposal suggests that the Department of Defense expects to have at least 24 of them in the near future.
For more spaceflight in your life, follow us on Twitter and bookmark Gizmodo's dedicated Spaceflight page.