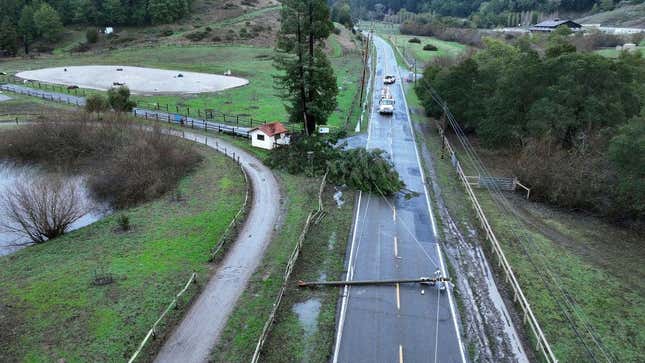 California was hit by yet another winter storm this week, and communities across the state are still assessing and cleaning up the damage.

The storm rolled over California on Wednesday, bringing winds up to 85 miles per hour and canceling flights at the San Francisco International Airport, the Associated Press reported. It felled trees, damaged power lines, and sparked flood warnings. As of this writing, there are more than 76,000 customers out of 13 million without power, according to PowerOutage.us. The most affected areas are those directly along the coast, including Humboldt, Mendocino, and Sonoma counties.
Areas such as Santa Cruz experienced strong waves from the storm, damaging seaside properties, KSBW Action News reported. Residents along the Santa Cruz Wharf were under evacuation orders on Thursday.
The rainfall may not be over. "Multiple winter storms will continue through next week. Widespread moderate-heavy rain returns this weekend, followed by a stronger storm Mon-Tues, bringing continued flooding concerns," the Sacramento National Weather Service tweeted Friday. San Francisco's Department of Emergency Management confirmed in a tweet that the area may continue to see more rain for the rest of this week. The department urged residents to report downed trees and flooding to 311.

This week's storm came from the third atmospheric river to reach the state since late December. The severe conditions have felled trees and damaged homes. Cities across Northern California like Oakland and San Francisco saw especially bad flooding last week, NPR reported. Last week's storm system then moved east, to central U.S. states. The "multi-hazard" storm sparked heavy rain, hail, and especially strong winds in states like Arkansas and Louisiana, CBS News reported. San Francisco saw some mudslides that temporarily shut down some roads.
All this precipitation has somewhat changed the drought conditions in the usually arid state. Parts of central California are no longer under exceptional drought, ABC News reported. But this doesn't mean the drought is over: Most of the state is still seeing moderate to severe drought conditions, according to the U.S. Drought Monitor.
The recent storm also dumped snow on top of California's mountains, giving the snowpack a much-needed boost. The California Department of Water Resources conducted its first manual snowpack survey for 2023 this week at Phillips Station near Lake Tahoe. They found more than 55 inches of snow, making this the highest snowpack recorded in four decades for this time of year. State officials are only tentatively excited for now. In early 2022, there was several feet of snowpack, but by the last survey at the end of winter, the area around Lake Tahoe only had about 2.5 inches of snow. If the recent snow sticks around, it will melt come spring and give the state's reservoirs the extra water they badly need. 
Click through for a glimpse of how California is holding up after yet another storm.