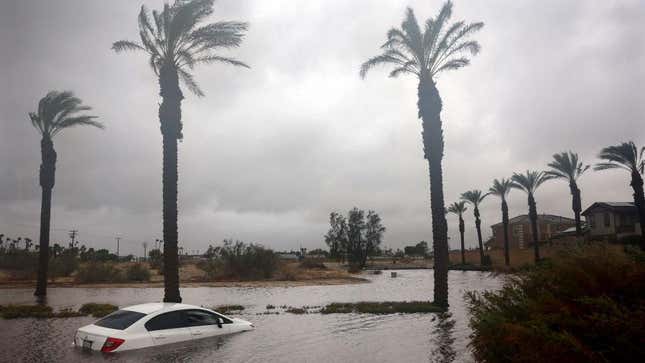 Tropical storm Hilary swept over Baja California and up into Southern California this weekend, flooding roads and felling trees. This is the first tropical storm to hit the state in over 80 years, the Associated Press reports.
Hilary broke several rainfall records throughout several locations in California, according to the Los Angeles National Weather Service (NWS) station. "Downtown LA recorded 2.48 inches of rainfall yesterday," the Los Angeles station tweeted. "This makes it the wettest August day ever at Downtown LA. The previous wettest day was Aug 17, 1977, when 2.06 inches of rain was recorded."
First responders had to rescue people from flooded areas and mudslides covered roads in debris, USA Today reported. "Hundreds of flights along the West Coast were canceled on Sunday and more have been cancelled today, according to data from FlightAware. A lot of the delays and cancellations were in the Bay Area. There are some outages throughout coastal California this morning following the storm. There are currently more than 38,800 customers without power throughout the state, according to data from Poweroutage.us. Del Norte, a county at the very top of California is almost entirely without power. But that was not caused by infrastructural damage from the storm and instead is due to wildfires in that part of the state, The Mercury News reported.
Hilary is on its way to drop rain over Nevada and other surrounding regions today too, the Associated Press reported. "Farther north, widespread moderate to locally heavy rain may also create flooding concerns throughout the northern Great Basin as a nearby frontal boundary provides a focus for precipitation," today's alert from the NWS said. Several states near California including Arizona and Nevada are at risk of seeing excessive rainfall and some flooding too.
The reason why California hasn't had a tropical storm in decades is that it is rare for storms in the Pacific Ocean to make landfall in the United States. But we're currently in an El Niño formation year. The Pacific Ocean experiences more storms during El Niño periods. And this year has also seen alarmingly high ocean temperatures, which could help fuel storms.
See what Southern California looks like after the Pacific storm swept over the state in the slides ahead.
Want more climate and environment stories? Check out Earther's guides to decarbonizing your home, divesting from fossil fuels, packing a disaster go bag, and overcoming climate dread. And don't miss our coverage of the latest IPCC climate report, the future of carbon dioxide removal, and the un-greenwashed facts on bioplastics and plastic recycling.