On Monday, Balch Springs Police Chief Jonathan Haber walked back from an earlier statement concerning the fatal shooting of 15-year-old Jordan Edwards. Originally, Haber claimed that the car Edwards was traveling in reversed toward an officer "in an aggressive manner" Saturday night, prompting an officer to shoot into the vehicle and kill Edwards. After reviewing body camera footage, Haber now says he "misspoke."

"After reviewing the video, I don't believe that [the shooting] met our core values," he told the press.
Haber said that body camera footage revealed the car was, in fact, driving away when the officer fired into the vehicle. The medical examiner's office ruled the shooting a homicide, though that doesn't necessitate charges against the officer. The officer who shot and killed Edwards has not been named.
One-third of police departments now use body cameras, but privacy experts aren't convinced that the tools will reliably offer a different perspective from eyewitness accounts by police. The overwhelming majority of departments don't have any clear policy on camera use and often allow officers to view footage before they file a report. In Balch Springs, the contradiction between the video footage and the officer report may be crucial in deciding if an officer is charged in Edwards' death.
Harlan Yu, a tech policy researcher and co-author of the Body Worn Camera scorecard, a 2016 report rating body camera policies for different police departments, told Gizmodo that departments considering adopting body cameras should require statements from officers before they view any footage.
G/O Media may get a commission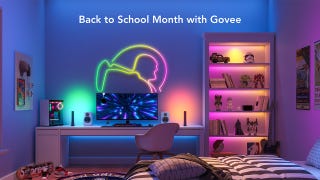 Back to School
Back to School Month with Govee Sale
"We don't want these to be gotcha tools," Yu said. "[But] I think it's important for an investigator to suss out why there are differences [between a video and an officer's statement] and whether the differences are legitimate."
However, Yu doesn't necessarily think that all discrepancies imply officer wrongdoing, simply that they require further investigation.
"It's certainly not that case that just because there are differences... there should be punitive measures," he says.
It's not clear if the officer who shot Edwards was able to review footage before giving the department an account of the shooting. A spokesperson for Balch Springs PD told the New York Times that responding officers are being given time to "decompress" before making official statements. Yu said that he searched Balch Springs PD's website for its policy, but couldn't find it. Balch Springs PD confirmed to Gizmodo they have a body camera policy, then directed us to request a copy from their records department. We'll update this story once we've received it.
This raises an important question: If a police department has a specific body camera policy, but it's not publicly available, how effective can it be? Among other things, body camera policies tell the public when officers can record, how long they can retain videos, and how the public can access that footage. How will the public know if their rights have been infringed upon? How will they know what their rights even are?
"It makes it difficult to understand what officers are required to do and what limitations we're putting on officers when using cameras," Yu said.
Navigating policy concerns is extremely tricky. For example, conversations about police brutality against young black men jumpstarted the push by activists for body cameras. Out of respect for privacy, most policy experts recommend withholding footage of minors from the public. But, when officers shoot and kill unarmed black children, the groundswell of public interest demands answers and accountability. Which one do you put in the policy?

"The main concern here is the privacy of the family," said Yu, noting that faulty policy could potentially "re-victimize the family every time the footage is shown on the 6 o'clock news."
Yu thinks that for the "vast majority of routine incidents," which don't involve fatal use-of-force, footage should remain private, with exceptions for high-profile cases with public interest.
"I think, in many cases, families should have some control, especially in the case of a deceased minor," he continued.
As of Tuesday evening, many details concerning the circumstances of Edwards' death and the subsequent investigation are unavailable, but the actions of the Balch Springs PD will have serious ramifications on the perception of body cameras and their potential to hold officers accountable.