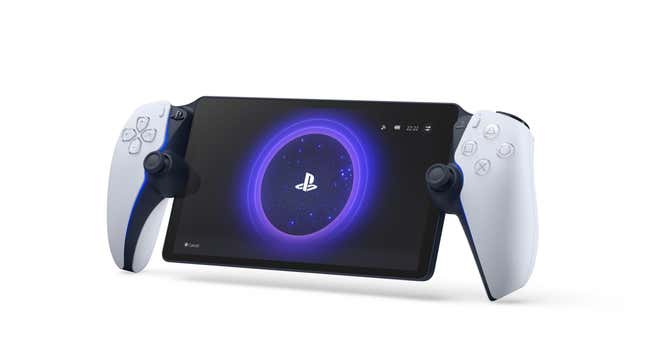 Sony finally has a date for its so-called "Remote Player" that's definitely not a handheld console. The $200 PlayStation Portal, the company's new Wi-Fi-only streaming device, is set to hit player's hands on November 15th, and now prospective players can pre-order the device from Sony's PlayStation Direct website.
According to the company's updated blog post, the device is limited to only one per customer and will launch in the U.S., U.K., and several countries in Europe on November 15 through Sony directly. The Portal will also be available through select retailers in Canada and Japan.
Sony's pre-order limitations seem to point either at limited supply or at high sales expectations. But since the company first offered us details about the device last month, we were surprised more by what it couldn't do than what it could. For starters, the $200 device won't accept PlayStation's nascent attempt at cloud game streaming. On top of that, the PlayStation Plus Premium tier, which allows access to cloud streaming, is being hiked by $40 a year.
The Portal is a DualSense controller attached to an 8-inch LCD screen. It includes all the functionality of the company's main PlayStation 5 controller, though it's wifi only, meaning there's no real gaming on the go except for if you find a spot with at least 5 Mbps of connectivity. Still, you'll likely want high-speed 15 Mbps internet to get the most out of remote play.
Then you get to the issues it has with third-party headphones. There is a typical 3.5mm headphone jack, but the device does not support Bluetooth. Instead, the company uses its own proprietary PlayStation Link to connect to the company's new Pulse Explore earbuds and Pulse Elite headset. The Elite costs $150, while the Explore costs the same as the Portal at $200.
The Elite and Explore should work with other devices as well because they support Bluetooth, but they need to stick a USB dongle inside the PlayStation 5 to operate with Sony's mainline console. Otherwise, users wanting a truly wireless experience with the portal will need to spend at least $350 for Sony's proprietary tech. For that price, players could instead look at the growing mountain of streaming handhelds like AYN's recently announced Odin 2, If they want to spend an extra $50 to $100, they could look into getting one of the cheaper Steam Decks.
---
Want more of Gizmodo's consumer electronics picks? Check out our guides to the best phones, best laptops, best cameras, best televisions, best printers, and best tablets. If you want to learn about the next big thing, see our guide to everything we know about the iPhone 15. Click here to save on the best deals of the day, courtesy of our friends at The Inventory.