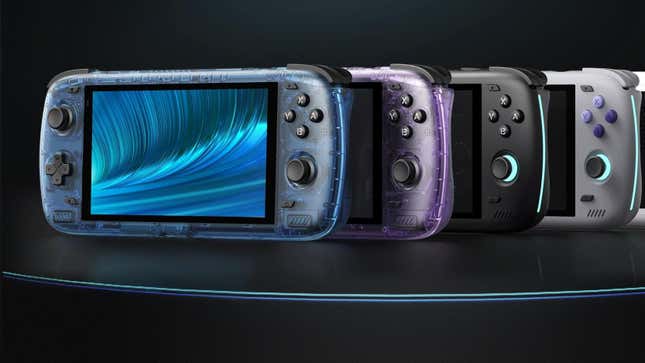 AYN has been ever-so-slowly unveiling more details about its upcoming Odin 2 handheld console for the past several weeks. Now, the company shared specs for its upcoming Steam Deck competitor, including storage, processor, and, most importantly, its competitive price: $299.
Hands-on: Lenovo Legion Go
On Monday, AYN revealed the Odin 2 will be another Android-based handheld console running on a Qualcomm chip. This time, instead of the older Snapdragon 845, the sequel device will be packing the powerful and increasingly ubiquitous Snapdragon 8 Gen 2. This is the same processor powering several of Samsung's latest premium phones, and it has managed to keep pace with competitors like Google's proprietary Tensor chip.
The original Odin went for about $240 for the base model, while the Odin Pro started at around $290. Meanwhile, the Odin 2 will start at $299 for the minimum version containing 8 GB of RAM and 128 GB of internal storage. Two other versions will contain 12 GB/256 GB and 16 GB/512 GB respectively, though the company did not reveal pricing on its beefier models. There are a range of colors to choose from, including some attractive clear plastic blue and purple versions a la early Game Boy models. The company is gearing up for an upcoming Indiegogo crowdfunding campaign, though we don't have a start date, either.
China-based AYN first released the Odin back last year as a kind of ultra-light Steam Deck and Nintendo Switch competitor. Instead of playing games from Windows or the Linux-based SteamOS, the platform ran on open source Android and was designed for mobile games and retro emulation. It measured slightly smaller than the Switch but included a 6-inch, 1080p touchscreen display. We haven't received exact dimensions of the Odin 2's display, but by the photos we can guess it's going to be very similar to the previous iteration.
Being the Android-only odd man out among handheld consoles does have its benefits. Beyond accessing mobile games, you can download game streaming apps like Geforce Now to access your Steam library or get Xbox Game Pass (and maybe eventually PlayStation) and play them all on the Odin, though that would require a constant internet connection. If you compare the Odin 2 to other streaming-only handhelds, it's slightly cheaper than the larger, streaming only Logitech G Cloud, at least at launch. Other companies like Razer failed to beat the Steam Deck's cheapest price point for streaming-only, but there's also the cloud-gaming focused Abxylute with its 7-inch LCD screen and just above $200 price tag.
All handheld console pricing orbits around Valve's Steam Deck in this moment. The ultra-customizable platform is singularly built for the largest game library service around, which makes it hard to topple from its throne. The Asus ROG Ally is priced just a little bit more than a base 512 GB Steam Deck. We don't know where Lenovo's supposed Legion Go handheld will land in terms of pricing, but if it wants to run a native Windows 11, that will likely put the price somewhere in the realm of a mid-range gaming console, at the very least.
---
Want more of Gizmodo's consumer electronics picks? Check out our guides to the best phones, best laptops, best cameras, best televisions, best printers, and best tablets. If you want to learn about the next big thing, see our guide to everything we know about the iPhone 15. Click here to save on the best deals of the day, courtesy of our friends at The Inventory.