This is Aros, a Wi-Fi connected air conditioner aimed at energy-conscious consumers that Quirky and GE are launching today. It's by far the biggest and most complicated product that Quirky has ever built, and it aims to help solve truly endemic problem: The window a/c unit, which has remained pretty much unchanged since the 1970s.
It's been over six months since Quirky and GE announced a partnership, wedding one of the youngest and one of the oldest producers of consumer technology. Though they've released a menagerie of "connected" gadgets in the time since, Aros feels like the team's first earnest product. As Quirky CEO Ben Kaufman told me, it's been in the works since the partnership was announced. "We want Quirky to be a company that makes invention accessible, not just cool kitchen gadgets and fun toys," he says. "And GE gives us the ability to take on these really complex inventions."
Like all of Quirky's products, Aros was the idea of a community member: Dr. Garthen Leslie, a former Department of Energy employee based in Maryland who uploaded the idea to Quirky's forums after contemplating a/c units hanging off the sides of buildings on a hot summer day. "I was tired of choosing between wasting energy or suffering through the stuffy summer heat," he explains.
By Thanksgiving of last year, the team at GE—which has built window air conditioners for 70 years—were hard at work on the concept. For them, the project was on a nearly unthinkably short schedule. "I thought these guys were crazy," laughs GE Appliances' Kevin Nolan. But, he adds, GE is getting something out of the deal, too: "We as a company are learning a lot about how we can be bolder and take more risks." Normally, an a/c unit like Aros would take about a year to design. Today, less than six months later, Leslie's idea is a gleaming reality.
G/O Media may get a commission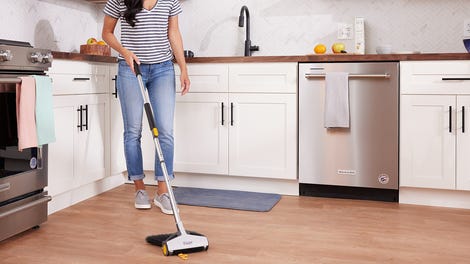 BOGO 50% Off
Flippr - BOGO 50% Off
For a product that claims to reinvent a category, Aros has a low price point—$300—which is roughly on par with similar products. That's because it didn't require the reinvention of the air conditioner. Instead, GE and Quirky have built a conventional in-window a/c that can cool up to 350 square feet with 8,000 BTU. They've added some nice detailing, too, like upward airflow, three cooling and fan modes, insulating fabric panels, and a sleek front-facing paneling.
What makes it smart is the software, which is linked to Quirky's smart home app, Wink. With it, Aros is tethered to your Wi-Fi, and you can use your phone like a remote. Turn it on when you're about to get home, or make sure it's off when you leave. It will learn when you're home, when you use it, and build you a schedule—a bit like Nest's thermostat, for those without central air.
Aros is definitely built for the money-minded user, too. One in-app feature will let you set a budget for your monthly energy bill. When you get close to your limit, Aros will let you know, avoiding a nasty end-of-month surprise on your bill.
This kind of functionality isn't particularly new for other appliances. After all, we can do the same with Quirky's line of smart gadgets, from the egg saver to the power strip. But neither of those products responded to true problems. In fact, they feel like practice runs in the Quirky/GE partnership, a novel way for the companies to beta test Wink and iron out any wrinkles the supply chain.
The energy-hogging, dumb-as-a-brick, ultra-ubiquitous in-window a/c unit? That's a problem—the sort that Quirky and GE seem uniquely qualified to solve by adding smart software flourishes to existing appliance. According to Kaufman, it's a taste of things to come. "You're going to see less gadgets and doo-dads and more sophisticated products that are completely rethought categories," he adds.
Until we have a chance to try one, it's impossible to tell just how much of a difference Aros will make on your energy bill, but let's hope it delivers on its promises—and that the next problem GE and Quirky take on is as relevant. You can pre-order Aros on Amazon starting today for $300.