The New York Times published a blistering exposé today, detailing how Russian Olympians engaged in a state-run doping program in order to win as many gold medals as possible during the 2014 Winter Olympics in Sochi. At least 15 medal winners were reportedly involved.
Grigory Rodchenkov, who was head of the country's antidoping laboratory at the time, tells The Times that he developed a drug cocktail of banned substances, which NYT describes as "the most elaborate—and successful—doping ploys in sports history."
Wow.
But from there, the story just gets bonkers, involving actual covert urine-swapping operations. The Times report explains:
In a dark-of-night operation, Russian antidoping experts and members of the intelligence services surreptitiously replaced urine samples tainted by performance-enhancing drugs with clean urine collected months earlier, somehow breaking into the supposedly tamper-proof bottles that are the standard at international competitions, Dr. Rodchenkov said. For hours each night, they worked in a shadow laboratory lit by a single lamp, passing bottles of urine through a hand-size hole in the wall, to be ready for testing the next day, he said.

By the end of the Games, Dr. Rodchenkov estimated, as many as 100 dirty urine samples were expunged.
G/O Media may get a commission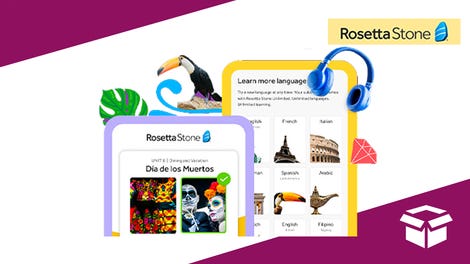 Extra 20% off
Rosetta Stone Lifetime Subscription - All Languages
This report follows previous accusations by the World Anti-Doping Agency that pointed to Rodchenkov as the main perpetrator of this extreme unsportsman-like conduct. At the time Rodchenkov responded to the allegations and said, "This is an independent commission which only issues recommendations... There are three fools sitting there who don't understand the laboratory."
Now, after fleeing to LA and becoming the central focus of a new documentary, Rodchenkov seems to have made an about face on the matter, probably after two of his former colleagues unexpectedly died. It sounds like the plot of a spy movie or possibly a Rocky sequel.
The cocktail itself used three types of anabolic steroids: metenolone, trenbolone, and oxandrolone. Anabolic steroids are often used to stimulate muscle growth, but Rodchenkov says that his particular cocktail helped athletes "recover after grueling training regimens." They were diluted in alcohol—whiskey for men and Martini vermouth for women.
Again, this is a nightmare tale fit for a spy thriller, but sadly, an increasingly unavoidable reality for many high-profile sporting events. Hopefully the organization gets its shit together before the Rio games later this year—if they even happen at all.
Make sure you read the entire story at The New York Times.
[NYT]