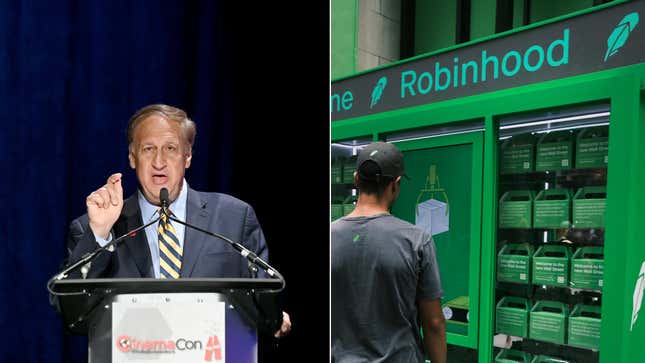 In the blink of an eye, Wall Street Bets' once-favored trading app burned a hole in one of meme stock traders' favorite gambles, AMC Entertainment. On Monday, the stock trading platform briefly and erroneously told users that the company had suddenly gone belly up.

Robinhood confirmed in a Monday tweet that around 1:45 p.m. that day, the platform "experienced a technical issue" that created a banner on the AMC Entertainment listing declaring it bankrupt. The trading platform claimed it removed the banner just three minutes later, but that was enough time for the news to shock many Robinhood users keeping close tabs on the meme stock.
Adam Aron, AMC's board chairman and CEO, also took to Twitter to share how "ducking" angry he was about the whole situation. The rather verbose chief exec said Robinhood was "either incompetent or evil" and said the company was looking into suing the "dastards."
Gizmodo reached out to Robinhood to clarify what issue caused the erroneous banner on the trading platform, but we did not immediately hear back. We also reached out to AMC for further comment, but the company did not immediately respond.
Aron is known for his confrontational attitude, as well as his propensity to eschew pants during interviews. At the same time, the theater company itself has a good few reasons to defend its stock position. Per MarketWatch, AMC has posted four years of losses in a row. Aron claimed that when the company posts its latest quarterly earnings Friday they would show the company has had a "sizable cash position" for the first three months of 2023. 
Luckily for AMC, the banner SNAFU didn't seem to impact their stock price much, or at all Monday, and the stock price reached where the company was in the beginning of March. The company's stock hit lows in mid-March running into April after the company posted close to $288 million in net losses for fourth quarter losses for 2022. In February, the company announced controversial changes to its theater seat pricing scheme, where those sitting in the middle of the theater can expect to pay more for their prime position.
The "dastards" at Robinhood have previously come under AMC's ire, such as back in 2021 when the platform briefly halted purchases of AMC as well as other meme stocks like GameStop and American Airlines. In 2022, a retail investor successfully sued Robinhood for close to $30,000 over the stock trading halt. 
It's not like the stock and crypto trading app has been doing especially well after seeing post-pandemic and meme stock investment highs. Last year, Robinhood laid off large swathes of its workforce during a wave of big tech layoffs. The company was also fined $30 million by the New York State Department of Financial services over allegations the company failed to maintain cybersecurity and for violating reporting requirements for its crypto exchange.