James Bond is known for racking up a pretty high body count, and for having a great quip every time he puts someone in the ground. But Roger Moore, who played the role for a dozen years, says he thinks the key to Bond's character is that he dislikes killing.
We're stoked to feature an excerpt from the new book How to Be a Superhero, in which journalist Mark Edlitz has interviewed tons of actors who have played iconic superheroic characters, from James Bond to Superman to Spock. The book, featuring a foreword by David Mamet, comes out on June 15, and here's an excerpt from the Roger Moore interview.

What was the key to understanding Bond's character? Can you give a practical example of how as an actor you applied that insight to a specific scene, moment or line?
When I first took on the part, I read Fleming's books. There was little offered in them about the character. However, I remember reading one line that said Bond had just completed a mission - meaning a kill. He didn't particularly enjoy killing but took pride in doing his job well. That was the key to the role as far as I was concerned.
G/O Media may get a commission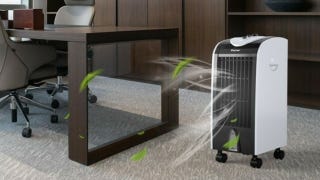 Save $10
Evaporative Portable Air Conditioner Cooler with Filter Knob
[Author's Note: Moore is referring to the passage in the novel Goldfinger, in which Ian Fleming writes: "It was part of his profession to kill people. He had never liked doing it and when he had to kill he did it as well as he knew how and forgot about it. As a secret agent who held the rare double-O prefix – the license to kill in the Secret Service – it was his duty to be as cool about death as a surgeon. If it happened, it happened. Regret was unprofessional — worse, it was a death-watch beetle in the soul."]
While there is deservedly much discussion about how suave and funny you were as Bond, you were also very good at making him cold-blooded and lethal. How did you approach those scenes?

Well if you read the Internet blogs, they agree I was funny, but they're not so sure I was suave and certainly they don't regard me as having been cold-blooded. There was one scene in For Your Eyes Only where I had to be rather cold-blooded in killing a villain. They say that scene changed the series tone for my films, but I wasn't comfortable with it, if truth be known. I was rather cold-blooded and mercenary on Fridays though. That's the day I received my paychecks.
What was your approach to saying "My name is Bond, James Bond," 007's signature line? Audiences eagerly anticipate the line. Seems like an actor can go a bit mad thinking about it.
Oh goodness, I spent many, many hours committing that line to memory! Guy Hamilton, the director on my first Bond, said, "Don't say the line with a Scottish accent and we'll be fine." Words I heeded.
From the movies, we learn so little about Bond personally. What do you imagine his private life is like?
It's probably one bar to another bed. I'd imagine his private life to be rather limited as he's seemingly always on the job.
When people meet you on some level (perhaps an unconscious one) they believe that they're actually meeting James Bond. Are you aware of that? What's that like for you? Do you feel any pressure to meet those expectations?
Oh, I don't think they think I'm Bond. Well, ok, maybe. I sometimes get comments like "Hello, Mr. Bond" and such like. I smile and keep walking, but if someone comes up to me and says "Hey, you're James Bond!" I'll say, "No, I am Roger Moore, I used to play James Bond." I don't pretend I am the character. Therefore, I have no expectations to meet other than those of meeting Roger Moore. I am, of course, charming, polite, and courteous.
Where do your and Bond's personalities converge and diverge?
Well, when I played the part he looked and sounded like me. That's where the similarities and differences begin and end!
Men the world over have dreamed of being as suave, capable, masculine, and as appealing to women as Bond. Most of us come up a bit short. When you were in character did you ever allow yourself to actually feel like Bond? How did that feel?
How does Bond feel? I don't know. I never really absorbed myself in a role like some actors do. Many take the roles home with them and live the part. I'm quite happy to leave mine at the studio and return home as I left, simple old Roger Moore. I guess it would be easy to think I'm invincible and live as charmed a life as 007, but that would be foolish, wouldn't it?
You've played a wide variety of characters in scores of movies. You've also starred in memorable television shows including The Saint and The Persuaders, but the character you're most associated with is James Bond.
Without doubt you are recognized for the last role you played. When I was Bond, I was recognized as Bond. Before that I was recognized as Lord Brett Sinclair, The Saint, Beau Maverick, Silky Harris and Ivanhoe. Bond was later than those other parts, and perhaps bigger, too.
What are the positive and negative aspects of the association?
The positive aspects of Bond? A bigger paycheck. The negative aspects? A coward having to pretend he is brave, and trying not to blink when explosions go off.
Can you please give us some advice on how to be as cool as Bond in our daily lives?
Stay in bed . . . with a pretty lady.
How has playing James Bond affected you personally, not professionally, not publicly, but personally?
Personally, it has given me financial security. It has also provided me with a certain celebrity, if that is the right word, which has enabled me to work as a Goodwill Ambassador for UNICEF.
Speaking of UNICEF, how has playing Bond been an asset to meeting children in your travels for UNICEF?
It is a great asset. After all, who would want to meet a jobbing actor? But meeting an actor o once played James Bond, that opens doors. I find I'm able to meet with presidents, prime ministers and people who make decisions. Bond has afforded me a great personal passport, which I use for UNICEF.
What question should I ask my next interview subject?
My question for your next interview: How do you keep your head when all about you are losing yours?
Why do you think the films have remained so popular for fifty years and counting?
The films are hugely popular because they are entertaining. The producers never cheat audiences; the money goes on the screen.
How to Be a Superhero: The untold stories behind the great movie & television superheroes from the people who played them is on sale in two weeks.