A writer from season eight already has some ideas for Doctor Who season nine. The Minecraft movie suffers a major setback. Avengers: Age of Ultron will definitely impact Agents of SHIELD. The Teen Titans show will film its pilot next year. And what "traumatic" scene will be in Game of Thrones season five? Spoilers now!
Top image: Avengers: Age of Ultron
Marvel
There's some rumors going around, based on the fact that the timing of the official announcement of Benedict Cumberbatch as Doctor Strange coincides with the news that Avengers: Age of Ultron reshoots are being scheduled for January. This could mean that Cumberbatch is filming a cameo as Stephen Strange — as a surgeon and not as the hero — for Age of Ultron. Other speculation has Cumberbatch's Strange making a debut in Captain America: Civil War. Which could make more sense, since that movie's release date is a lot closer to Doctor Strange than Age of Ultron is. [Inquisitr]
James Gunn said that there are some hints about the next movie in Guardians of the Galaxy, but that there's nothing explicitly important in them, since "the movie's still mostly about the movie itself. And that'll continue to be the case." He does say we should read the mugshots, and that there may be more about the Krylorian and Ravager culture in the sequel. He also put to rest any questions about whether the animated Guardians of the Galaxy is related to the films:
[The show] hypothetically takes place between this movie and your next movie.
Really? Is that what somebody said?

Yeah.

Because that's not true.

Okay.

There's no way.

That was my question. Is that case or do you have to like be don't touch any of this?

No, that's totally separate from this Marvel Cinematic Universe. And whoever said that, it pisses me off.
G/O Media may get a commission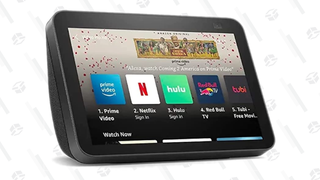 ---
Minecraft
Director Shawn Levy and writers Kieran Mulroney and Michele Mulroney have left the project, since the idea the team brought to Warner Bros. didn't match what the game developers wanted. It was then decided that they'd leave Minecraft, and Warner Bros. hopes to get a new director by the start of the new year. [Variety]
---
Game of Thrones
Sophie Turner says that her favorite scene to film for season five was one that was "traumatic." It's hard to guess what it is for certain, since Sansa's character has diverged a lot from where she is in the books, skipping a chunk of time in disguise and revealing her identity. Winter Is Coming guesses that it could be a scene that was cut from A Dance With Dragons and rumored to be in The Winds of Winter. It's said to be "controversial," which lines up a little with Tuner's comments. See what she has to say below. [via Winter Is Coming]
---
Doctor Who
Writer Jamie Mathieson, who wrote Mummy on the Orient Express and Flatline, is more than willing to return for season nine. He says that he has a ton of ideas:
I would love to [return next year]; that would be great. I had a great time working on it. I've heard tales of writers finding it quite hard – I mean, there were a lot of rewrites on both of these episodes, but I'm quite happy to do that. Any time Steven Moffat comes in and says 'I've got a great idea for your episode, it should be this way' and you go 'ah brilliant, that's much better'. And he does that a lot!

... If my computer ever gets hacked, there's massive folders full of Doctor Who ideas! I'm a massive nerd, so I've been thinking about aliens and robots and ghosts since I was about 5 – there's a whole life of me thinking about this kind of stuff.
[Cultbox]
Dan Starkey talked about playing someone who isn't Drax in "Last Christmas":
It was great actually. It's very interesting. With Strax the make-up is much more extreme and I can't really hear - I have to do a lot of homework before I get on set! [Laughs] And also, Strax usually has a couple of gags each scene and I have to make sure I land those in quite a specific way.

But because I can react to people normally, you can see my face, it's been much more loose. It's been fun. The first day was like, "Ah, this is my actual face on camera! [Laughs] What am I doing? [Laughs] Obviously with Strax's face it's a mask that I have to almost choreograph. I have to to tilt because he's very difficult to light because of his deep brow ridge and his eyes disappear quite easily.
As for the special itself, Starkey talked about his character and the script:
He's an elf, there are two elves - Ian and the Wolf. We're both Santa's little helpers undermining Santa's authority, at various points. [Laughs] When Santa comes along in his heroic guise as Mr Christmas, Ian and the Wolf are there to undermine him slightly and be helpful, as best they can.

It's a lovely script. It's got quite a dream-like hallucinatory feel in certain places. It's very nice and Christmassy in that it's got a ghost story edge to it even though it's science-fictiony. It's got a MR James quality - creeping chills and stuff. As ever, with Doctor Who, there are some good laughs with it but that means you can then wrap up the scares as well. It's got a good mixture of those two things.

The costumes are beautiful, they're actually handmade. Just look at the shoes, the shoes are something special. That's all I'll say! [Laughs] It's pretty special!
---
The Originals
After the midseason finale, executive producer Michael Narducci says that Finn is trying to force a war between the species, at the same time that Hayley and Marcel have a good relationship and could have an alliance. As for the state of things when the show returns, Narducci says:
It's a tiny little time jump. It's not so significant that we're going to miss out on the things we really want to see which is: What does our family believe happened to Rebekah? They know that she didn't wake up in Cami; where is she? They're hoping that she's woken up in the body of this other person who Kol has prepared, but Kol knows that that's not going to happen, so there's the mystery of how that plays out. Then there's the mystery of: Is Esther going to drink that blood or not, and then what's going to happen with Mikael and Finn, this new alliance of the vampire who hunts vampires and the brother who hates his siblings and wants revenge for what's happened to his mom? So a lot's going to go down in that first episode back.
More at the link. [Entertainment Weekly]
---
Agents of SHIELD
This isn't a huge surprise, but executive producers Jed Whedon and Maurissa Tancharoen have confirmed that Age of Ultron will tie into the show:
"You should expect something," executive producer Jed Whedon says. "The Avengers is the big tent that all the franchises play under. Obviously, we're included in that."

"I don't think any movie has the potential to impact us in the way that Captain America 2 did," executive producer Maurissa Tancharoen says, "but there will be connections."
---
Sleepy Hollow
Johnathon Schaech (Ray Donovan) will guest-star in the upcoming episode "Spellcatcher" as Silas Kent, a former Puritan minister who is now a powerful warlock. [Give Me My Remote]
---
Titans
On Twitter, Geoff Johns revealed that the TNT show would be shooting the pilot next year. He also talked about getting Nightwing on TV, the character who is the protagonist of the Akiva Goldsman and Marc Haimes-written show. [via Coming Soon]
---
Wayward Pines
Fox has announced that the 10-episode "event series" will premiere on May 14, 2015 at 9 PM. It's an adaptation of novel by Blake Crouch produced by M. Night Shyamalan. [Deadline]
---
Arrow
Here are two script teases for episode 3.09 from Marc Guggenheim. [via SpoilerTV]
Here's a clip from tonight's episode:
Go to the link for more set photos from episode 3.13. [YVR Shoots]
---
The Vampire Diaries
At the link is a behind-the-scenes look at tomorrow's episode. [TV Guide]
---
Once Upon a Time
From executive producer Adam Horowitz, here's a peek at the script for Sunday's midseason finale. [via SpoilerTV]
Additional reporting by Charlie Jane Anders and Diana Biller