The Samsung NX300's a big revamp of last year's NX210 including a lot of common sense improvements to Samsung's mid-range mirrorless camera. And then there's the 3D photo and movie mode. Nobody asked for a brilliant new technology that uses a single lens to capture 3D images, but Samsung made it anyway. And it actually works!
The NX300 is the first mirrorless, interchangeable-lens camera to shoot 3D. So how does it work? To use it, you'll need the special new $500 45mm f/1.8 2D/3D lens. As the name implies, it can shoot both 2D and 3D footage. When you flip the switch on the side of the lens from 2D to 3D, a two little liquid crystal doors appear as below:
When shooting video these little doors alternate blocking light from one side and then the next at 30-rotations per minute. The 3D effect is created by interlacing the images from each of the perspectives.
Even though it seems like such a small difference in perspective could possibly create a 3D effect, it actually works. It's not Avatar, but based on the footage and images that Samsung showed us, the effect absolutely works. The subject in focus appears physically distant from the background. The third dimension is more of a sense of depth than of objects jumping off the screen at us. At times it can look a little hokey, and sometimes when there's an object in the foreground that's out of focus the effect can be weird.
G/O Media may get a commission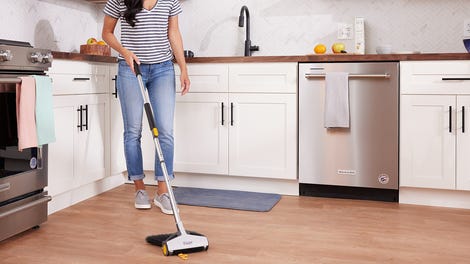 BOGO 50% Off
Flippr - BOGO 50% Off
Will anyone ever use this? Samsung says the 3D will work on any 3DTV—but does anybody even care about the 3D on their 3DTVs? We'll have to wait and see, but kudos to Samsung for developing it.
Or so it would seem. We've been fooled before by NX cameras that are almost incredible—save for the annoying performance quirks. This time around Samsung promises a little more polish: Improved Wi-Fi connectivity features, improved autofocus, upgraded hardware inside and out.
As for what's the same, the camera still has a 20.3-megapixel APS-C image sensor. It's the same size as the sensor on all DSLRs under $2000, and if our tests with previous iterations of this sensor are any indication, the photos will be excellent. A minor detail: The camera now shoots at 60 frames per second at full HD resolution (1920 x 1080).
Like many of the cameras that have been released over the last year, the NX300 uses a hybrid AF system, which combines contrast and phase detection to improve the speed and accuracy of the camera's focus. On previous NX models, the autofocus has been a major low-point. We tried out a near-production prototype of the NX300 and the focus was impressively snappy in broad daylight.
In addition, the Wi-Fi features introduced to Samsung cameras last year have been mercifully streamlined. There are two important changes. First of all, what used to be a smattering of smartphone apps are now all rolled into a single Smart Camera App that does everything. Secondly, the Wi-Fi connect button introduced on the NX1000 last year is now programmable to a default action. So, for example, when you push it, the camera automatically sets you up to send an email, rather than just taking you to the Wi-Fi main menu. We certainly hope Samsung's promises hold true here, because so far, the Smart Wi-FI features have been too complicated.
What else? On the outside, the NX300 now features a 3.3-inch AMOLED tiltable touchscreen. Not a minor improvement! Touch to focus can now be yours.
The NX300 ships in March $750 with a 20-50mm kit lens. That's a pretty competative price considering this camera has basically every feature its competitors have—we'll see if this new shooter is enticing enough for people to try something new.