Classic cyberpunk/fantasy role-playing game Shadowrun has gone through five editions and dozens of novels, and since its creation in 1989 the high-technology and corporate dystopia it depicts has been surpassed by the real world several times. Here's a look at one of the most iconic RPGs of all time.
Shadowrun is set in a near future world (the original edition started in 2050, and the current timeline is in the 2070s) where magical forces have awakened. Dragons are some of the most powerful beings in the world, and there are also elves, trolls, orcs, dwarves and other standard fantasy races. The cyberpunk elements — computer hacking, virtual space, corporate city-states — are heavily cribbed from William Gibson and Blade Runner. It's really the brilliant blend of urban fantasy and cyberpunk tropes that makes Shadowrun original and compelling, despite Gibson's fussy, elitist comments to the contrary.
Jordan Weisman wrote the first three editions of Shadowrun; the first was published by FASA in 1989. A twisted publication history has resulted (for now) with the game being licensed to Catalyst Game Labs, who currently produce the current 5th edition. Along the way, Shadowrun has accrued a loyal following, a nice chunk of geek culture real estate, and a swarm of ancillary products. These include more than 40 novels, more RPG supplements than I can begin to count, six video games, and one utterly amazing 1990 promotional video:
The 5th edition of the RPG is supported by an ongoing campaign, called Shadowrun Missions, that can be played by players at home or game stores all over the world. These missions are extremely popular at game conventions. The most recent iterations of the video game include Shadowrun Returns, a tactical RPG that enjoyed massive Kickstarter success and returned Shadowrun to Jordan Weisman's purview, and the upcoming Shadowrun Online.
G/O Media may get a commission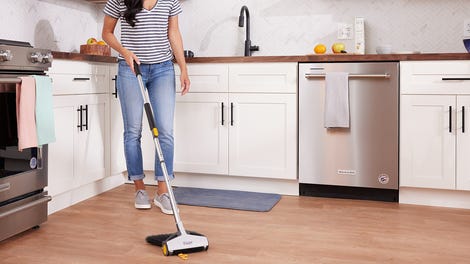 BOGO 50% Off
Flippr - BOGO 50% Off
Maybe the best way to explain what it's like to play Shadowrun is to tell you how I play Shadowrun. Our group was once tasked with eliminating someone in a heavily guarded safehouse. It was clearly a stealth mission. So we went to the airport and hacked a cargo plane, then crashed it empty into the safehouse, killing everyone there. The target, the guards... everyone. Of course we filmed the whole thing and uploaded it to the net to boost our reputation as badasses.
Of course, we could have played it like a stealth mission. Each Shadowrun session feels like a heist movie, like Ocean's 11 with street samurai and technomancers. We'll spend an hour and a half planning: talking to contacts, hacking vital systems, acquiring information, installing backdoors, rigging our vehicles, sending in drones. Then all the action goes down in about 20 minutes. Sometimes exactly as planned. No, I'm kidding. It's never exactly as planned.
What I've always found hilarious about Shadowrun is how hard a time it's had keeping up with the real world, elves and dragons aside. There was a period when the game's then-current edition still required characters to physically "jack in" to the network via ports installed in their brains, while smartphones that we actually had in our pockets could do vastly more. Shadowrun's 4th and 5th editions have fixed this problem. And while Shadowrun's dystopian vision of corporate overlords and brutal security forces aren't mirrored perfectly by reality, it's easy to hear the echoes.
So everyone loves Shadowrun's setting. But a lot of people hate the rules. I certainly do, but this isn't just my opinion. I can't tell you the number of gamers I've talked to who have told me some variation of, "Shadowrun! The setting is so great, I play it despite the terrible rules." Even an author of some official Shadowrun fiction has shared this view with me off the record.
The core of the rules aren't too bad. It's a D6 based system. Originally, you'd roll a pile of D6s and see which of them met a certain difficulty threshold. Difficulties above 6 were accomplished by rolling any die that rolled a 6 again and adding the new number to it. That is not the best system I've ever seen, but it isn't the worst. 4th edition made things simpler, with 5s or 6s on your pile of D6s counting as successes, and your sheer number of successes contributing toward your degree of success. It's straightforward, and it can be a hell of a lot of fun to roll 30 dice once in a while.
Where the game stumbles is when it tries to simulate complex subsystems. Even in the most recent edition this results at times in a muddle of situational rules and pointless descriptions of multi-layered networks. Several pages are spent trying to explain computer networks — you've got your own personal network made up of the devices you own, but there are also devices that are separate, just nodes on the greater network. Then there are specific corporate networks you might want to hack into. Then there are the networks you use to connect to other networks, essentially ISPs. I didn't even get to cyberspace yet. Even experienced Shadowrun players have a hard time explaining how riggers and drivers work. Are you in full VR mode? Do you have an agent program driving? Or helping you drive? Are you rolling with your skill, the skill of your agent, the quality of the vehicle, the quality of the device you're using to hack into the vehicle? No one knows.
Fine, I'm sure a lot of people know and I'm going to get a dozen comments calling me an idiot for not understanding this stuff, but I'm not exactly an RPG newbie and I find it exhaustingly complicated. Some level of abstraction is called for in the name of fun, surely.
And yet, despite the fact that I've been saving up that rant for literally years, I can't wait until the next time I get to play Shadowrun. Go Team Overkill!