A nifty new payment system is not without its quirks. A few early adopters who used Apple Pay to stock up on Halloween candy ended up getting charged two times per transaction. For now, however, it only seems to be those who used Bank of America debit cards.
CNN's Samuel Burke was one of them, and made a big stink about it in a video:
Burke's biggest beef was that a call to Apple's customer support didn't resolve the issue—after all, they don't store your financial information—and they referred him to Bank of America. Although it's probably always a good idea to call the bank first. He reported today that the duplicate charges will all be reversed.
Elsewhere, a handful of folks on Reddit say they've been double or triple charged, all with Bank of America debit cards. Our own intrepid tester was not double charged, but she didn't use a Bank of America card. Fortunately it seems like the glitch is only affecting a small number of people, and if you call Bank of America's fraud protection line they'll remove the charges right away.
G/O Media may get a commission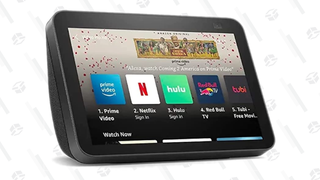 We've reached out to Apple for comments, and I spoke with Tara Burke at Bank of America, who gave me this statement: "We apologize for the inconvenience and we're correcting the issue immediately, and all duplicate transactions will be refunded." [Cult of Mac]
Update: Bank of America has confirmed that only about 1000 transactions were impacted.