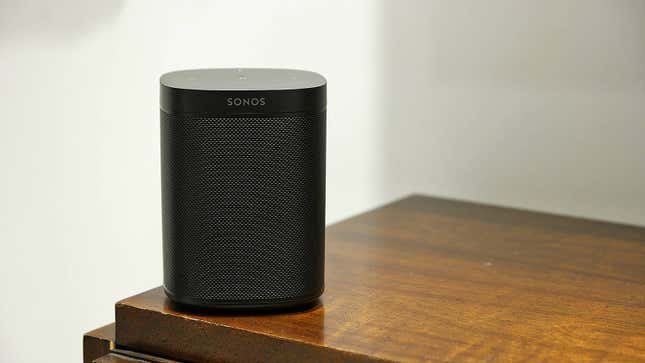 After its somewhat premature announcement of Airplay 2 support, Sonos is finally updating a few of its speakers to actually support Airplay 2. That means your iOS device can now bring the music management and multi-room audio feature to a few more of its smart speakers, including its newest Beam soundbar. With Airplay 2 on Sonos speakers, now you can tell Siri to turn the volume down instead of doing it with those clumsy fingers of yours.
Vizio's Latest TVs Go All Quantum
The Sonos One, Beam, Playbase, and second-generation Play:5 will all support Airplay 2, meaning you'll be able to use them as speakers for your iOS device, even when grouped together. You'll also be able to control audio using Siri and send audio from iOS apps to your Sonos speakers.
The update means your HomePod won't be the only one taking instructions from Siri. It also means you'll be able to add them to your HomeKit setup with the rest of your smart home gadgets. Still, you'll need to send your instructions through your iOS device.

According to Sonos, older devices won't be receiving Airplay 2 support because they're too underpowered. "The original Play:1, for example, has about 1/16th the processing power of its modern equivalent, the Sonos One," Sonos explained in its announcement. But that doesn't mean longtime Sonos users are out of luck. When grouped with an Airplay 2-compatible speaker, you'll be able to issue commands and control the entire group, including your aging Sonos Play:1.
Got a Sonos device with a voice assistant? Well, you can use that, too. "After you've started the music with Siri, you can let Alexa adjust the volume or skip to the next song via your Sonos One, Beam, or any Alexa-enabled Sonos device (set up through the Sonos skill on your Echo device)," Sonos said. While we've reached out to Sonos about the company's promised Google Assistant integration, supporting Airplay 2 and Alexa is better than no support (or choice) at all.