Really exciting point-and-shoot cameras only come around every so often, and last year's Sony RX100 was one of them. It blew its pocket compact competitors away. It also cost $650, which is pricey for an enthusiast camera. The new scaled down Sony HX50V mimics the RX100's covetable aesthetics, and packs some attractive, beginner-friendly features into a $450 package. Call it trickle-down design done right.
With the HX50V, you're getting the prettiest little long zoom camera ever made. The camera's most striking feature is its super long 30x optical zoom—usually you see this on superzooms popular with inexperienced photographers and tourists. At 4 3/8 x 2 5/8 x 1 9/16 inches and just under 10 ounces, it's the smallest and lightest 30x zoom ever, according to Sony.
While that magnification potential is attractive to a lot of people, you pay for it: Whereas most advanced point-and-shoots (or larger cameras) usually open all the way to a maximum aperture of f/1.8 or f/2.0, the HX50V only opens to f/3.5 when it's zoomed all the way out. That's hardly a dealbreaker, but it'll hurt the camera's ability to get good shots of the fam without flash in dark restaurants.
G/O Media may get a commission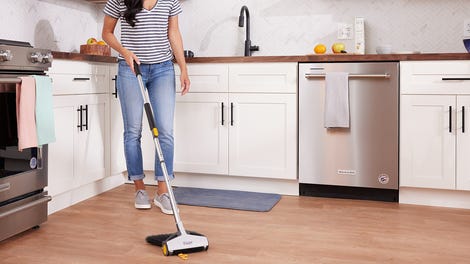 BOGO 50% Off
Flippr - BOGO 50% Off
The camera shoots with a 20.4-megapixel, 1/2.3-inch sensor. The maximum standard sensitivity of ISO 3200 is totally respectable. Still, the camera's sensor is smaller that the chips on the HX50V's similarly priced competitors from Canon, Nikon, and Panasonic, so we don't expect it to keep pace. It goes without out saying that the HX50V's potential image quality is theoretically far inferior to what you can get from the RX100's much larger 1-inch sensor.
Like other cameras for amateurs with aspirations, the HX50V has selectable P/S/A/M shooting modes whose parameters are easy to adjust on the camera's body. It's a perfect camera for moving on up.
Despite the HX50V's striking similarity to 2012's best point-and-shoot, it's really more of a dressed up mid-range superzoom than a stripped down RX100. But with cameras targeted at amateurs, usability is a hugely important factor, so we're excited to see if Sony was able to translate some of the RX100's effortless handling to an inherently clumsier camera. Out May. [Sony]