Before an American even reached space, the public was already asking what would come next. The space age artists and designers who were dreaming up what was in store for the astronauts of tomorrow were happy to oblige.
This gorgeous two-page spread from the January 1961 issue of Space World magazine (Alan Shepard wouldn't become the first American in space until May of that year) gave space enthusiasts a peek at what was next. With sleek space taxis, enormous refueling stations, and swirling manned space labs, the future was looking pretty bright.
From Space World:
The Mercury capsule represents only the first step in the development of vehicles that will conquer space. The pioneer research that has gone into the Mercury will pave the way for future manned satellites that are now on the planning boards of NASA and various space-age companies.

Shown on these pages are artists' renderings of just a few of the advanced concepts that are presently being researched. Each on of these vehicles is a logical development of existing techniques and know-how. These vehicles are destined to take man on his next step into space — after the Mercury capsule.
G/O Media may get a commission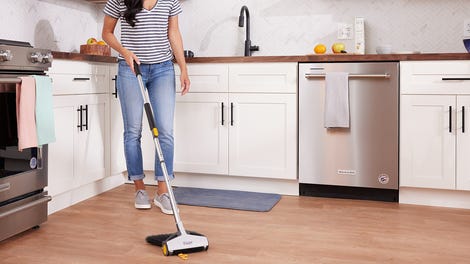 BOGO 50% Off
Flippr - BOGO 50% Off
Space Taxi
Powered by a throttleable AR engine designed by Rocketdyne, this vehicle will be able to maneuver close to an orbiting space station for transfer of men and cargo.
Space Laboratory
Orbiting at an altitude of 22,300 miles, this vehicle is designed to carry a crew of 50 men. Progress in the development of million pound-thrust rockets will lead to the practical consideration of satellites as large as this proposed model.
Telescope
This fifty-inch instrument is designed to be lofted into orbit where it can sight stars, free from the distortion of the earth's atmospheric haze.
Fuel Station
This base would be used for assembly and refueling of space probes that will carry men on exploratory missions to Mars, Venus and beyond. This drawing was made by William C. House, one of the country's leading rocket engineers, of Aerojet General.
Manned Satellite
Seven feet in diameter and 35 feet long, this vehicle and its radiation shielding will weigh 65,000 pounds. It would require a launching booster developing at least 6,000,000 lbs. thrust to elevate it into a 23,000-mile-high orbit.
Air Sled
Using an advanced version of Aerojet-General's newly developed Aeropak, this astronaut ferries a section of a space station being constructed in orbit. The Aeropak is an individual rocket propulsion device that was developed for the use of Army infantry men.
Images: Scanned from the January 1961 issue of Space World magazine